North Shore synagogue vandalized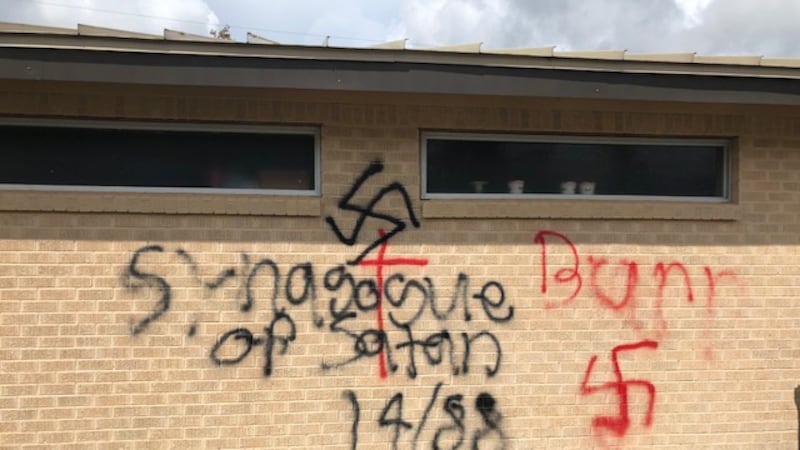 Updated: Sep. 6, 2018 at 12:49 PM CDT
NEW ORLEANS (WVUE) - A synagogue on the North Shore was vandalized this week.
Northshore Jewish Congregation officials discovered anti-Semitic symbols that were spray painted on the outside of the house of worship. The incident is suspected to have taken place Wednesday or possibly the night before.
According to Teri Gross, a spokesperson for the congregation, officials with the church said that The Mandeville Police Department and the FBI were contacted.
According to Gross, at this time the graffiti has not been removed.
Gross said this weekend is The Jewish New Year, or Rosh Hashanah. She said it is unfortunate that the vandalism happened before the service.
A meeting is being held with the Anti-Defamation League Thursday night to discuss the synagogue's next steps.
The Jewish Federation of Greater New Orleans issued a statement regarding the incident:
"On Wednesday, September 5, 2018, the Northshore Jewish Congregation in Mandeville, Louisiana, was defaced with anti-Semitic and white supremacist graffiti. The Greater New Orleans Jewish community, represented by ADL (Anti-Defamation League), the New Orleans Clergy Council, and the Jewish Federation of Greater New Orleans, collectively condemns this despicable and cowardly act.
Anti-Semitism and white supremacist imagery and rhetoric have no place in our world. We thank those who have joined us in denouncing this act, and call upon our Greater New Orleans community at large to do the same.
Federation CEO Arnie D. Fielkow and Federation Board Chair Henry Miller commented jointly, "Our community remains unified in opposition to white supremacy. Hate for one is hate for all, and as such, we condemn all forms of bigotry and discrimination."
ADL Regional Director (South Central Region) Aaron Ahlquist noted, "This odious act of anti-Semitic vandalism invoking white supremacist ideology comes at a time when we, as a society, are seeing a significant rise in anti-Semitic incidents - there was a 77% increase in anti-Semitic incidents last year alone. Hate of any kind must not be normalized, thus we hope that the entire community roundly condemns the vandalism at the Northshore Jewish Congregation. As part of that effort, ADL is offering a reward for information leading to the arrest and conviction of the perpetrator or perpetrators of this crime."
Rabbi Gabriel Greenberg, Chair of the New Orleans Clergy Council, said, "The Jewish community, and all of its rabbinic and clergy leadership, stands together with our brothers and sisters at the Northshore Jewish Congregation. We must rededicate our actions moving forward towards teshuva, tefila, u'tzedakah: repentance, crying out against injustice, and continuing to create holy and righteous communities here in southern Louisiana and the world. As we usher in the Jewish New Year of 5779, we hope for a year of unity, peace, and tolerance for all."
The Mandeville Police Department said it is taking this incident very serious and are actively investigating the case as a potential hate crime until proven otherwise.
Detectives have reached out to surrounding law enforcement partners as well as confirmed with the synagogue that at this time there have been no other similar incidents at other area synagogues.
Police are asking anyone with any information about this crime, to call the Mandeville Police Department at (985) 626-9711 or Crime Stoppers at (504) 822-1111.
Copyright 2018 WVUE. All rights reserved.