After 3 road games Drew Brees and the Saints look forward to returning home
Pittsburgh Steelers (8-5-1) at New Orleans Saints (12-2)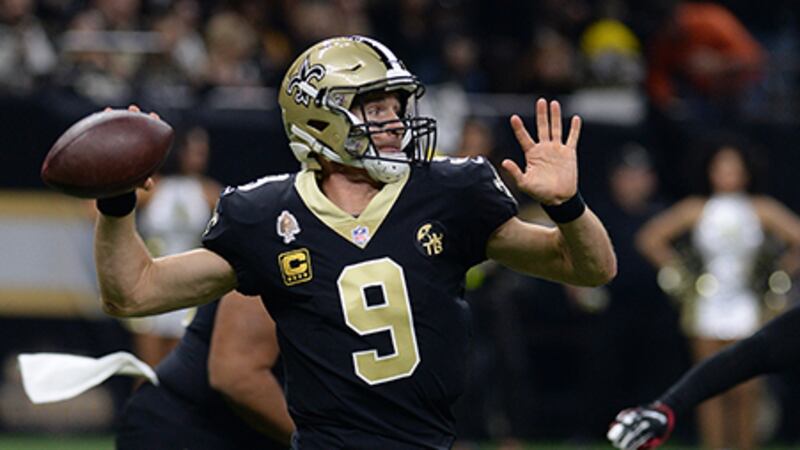 Updated: Dec. 20, 2018 at 9:58 AM CST
NEW ORLEANS (WVUE) - The New Orleans Saints return home to host the Pittsburgh Steelers after 3 consecutive road games.
Saints QB Drew Brees leads the NFL in comp. pct. (74.9) & passer rating (116.8) & ties for 3rd in passing TDs (31). In 6 home games this season, has completed 153 of 197 (77.7 pct.) for 1,925 yards (320.8 per game) with 20 TDs vs. 1 INT for 139.1 rating.
Brees met with the media on Wednesday to preview the team's game with Pittsburgh. Video and transcript from Brees' media availability is below.
How has Keith Kirkwood become more reliable?
"Yeah he's progressing really nicely and what I love about him is he is just so eager to to learn. He's like a sponge. He can really do a lot for us. He can play inside and outside, (is a) big target, does a good job in the run game to blocking. He's really coming along.
Is the nose cut from the game?
"Yeah, it's all good. (It) was just on the sack."
How did Ted Ginn Jr. look today at practice?
"He looked good. Look forward to getting him back this week and we'll see how it progresses."
Do you think he can play Sunday?
"I don't know. I mean we'll see. What I meant was really just having him out there at practice and getting time with him again. Obviously he hasn't had a chance to be with us for a long time. I guess since before Washington back in September. It'll be good to get him back out there running around."
Is it hard not having a lot of experienced guys at wide receiver?
"It's always challenging any time you have new guys that you really just haven't had a ton of time with and we all kind of laughed back, I guess during that Thanksgiving Day game when four undrafted free agents caught touchdowns, three of which it was their first touchdown ever, right. But it takes time and there's so many nuances to this offense too and such a trust factor and the chemistry that goes into the passing game that it just takes time and I think we've gone through some growing pains at times, but you know we're progressing."
Where does that rank among the issues for the offense the last three weeks?
"I think really establishing the tempo, which for us creates the rhythm by which we perform well. When we're clicking on all cylinders, we are running the football effectively, we are good in the short to intermediate passing game, which opens up the shots down the field. We possess the ball and we convert first downs and those results lead to points which is good and also plays a more complementary brand of football with our defense. Just look at the last drive for example in this past game. We convert a couple of third downs, a fourth down on our way to…We got the ball with eight minutes and fifty one seconds left right and really had a chance to run the clock out. If we get that last first down to Tommylee (Lewis) in the corner, because they didn't have any timeouts and we'd be on a knee three times (if there wasn't the fumble). It's those types of drives that I'm talking about, that I think really can can help the team at times when we need them."
The defense is playing so well right now, would you compare it to an ace pitcher on the mound?
"Yeah, but there's challenges each and every week and they know that just like we know that. From week to week man you put together the best game plan you can and you go out there and it's about execution and those guys have done a great job over the last couple of weeks. I mean statistically best in the league by far. But I think they understand the challenge that's ahead of them this week, with the firepower on that side and obviously we have the same challenges facing the defense."
How tough is it to be able to face prosperity in this league?
"I think that is harder, especially for young players. They just feel like "oh okay this is just how it is". No, man you have to work for this each and every week and each and every year. It's good that we have enough veteran presence in this locker room that can really lead these young guys and make sure that everybody from week to week is approaching with a great sense of urgency dating back to last season."
You're 4-0 going back to last season when not throwing a touchdown pass. What are your thoughts on that?
"Well I guess that's good. From game to game sometimes you're asked to do different things, right. I think in a game like the other day where we're taking our shots we're executing our offense. But we got a bunch of plays called back because of penalties. We didn't really allow ourselves many scoring opportunities. Whether we're running the ball in the end zone or a passing the ball in the end zone. Scoring twelve points or scoring fifty-two points, as long as it results in a win."
How much of a spark will it be to finish the season at home?
"Well it's been almost a month since we've been at the dome so it'll be nice to be back in there. I know our fans are looking forward to it. Obviously we've got a lot going for us right now, a lot at stake so look forward to get back in there."
How would you describe the Steelers defense?
"Very aggressive and they play fast, big, strong physical especially the front and that's how three-four defenses are built, especially this one. If you feel like you turn on the Steelers defensive tape over the last 20 years and it's the same defense, maybe different players and different numbers, but they play the same, tough, physical (group). Typically, a lot of pressure variations and stuff like that. So a lot of stuff we've got to be prepared for.
Do you think it was good to go through this tough stretch of grind it out games on the road?
"Yeah, Absolutely. I mean (the) bottom line is this, regardless of how those games played out for the first three and a half quarters we went into these last two games on the road in the division, down at half, down going in the fourth quarter and found a way to win, right? Everybody making plays, whether it's a special teams, a blocked punt or a great punt down inside the ten, a defensive stop, defense getting a turnover or offensively possessing the ball and going and getting points and giving us the lead. Everyone has contributed and it's good to feel battle tested and regardless of the scenario or circumstances that we encounter for the rest of the year or in any given game, we always have a chance, we always have hope and we're confident in that."
Information provided by the New Orleans Saints Media Relations and NFL Communications.
Copyright 2018 WVUE. All rights reserved.