Zurik: Is Louisiana's 'legal hellhole' to blame for sky-high auto insurance rates?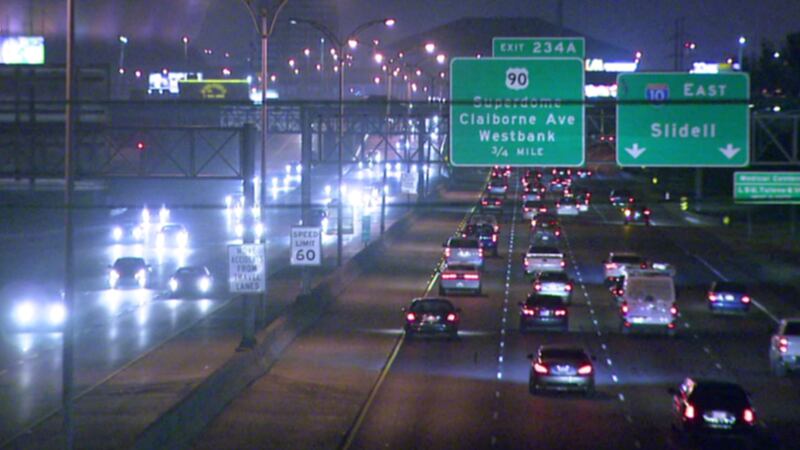 Updated: Feb. 20, 2019 at 10:45 PM CST
NEW ORLEANS (WVUE) - Many people have seen the 'Nationwide' commercials -- but few recognize that the insurance company is not available nation wide, including in Louisiana. They say they don't do business in Louisiana because of the state's "historically challenging legal environment."
Nationwide refuses to write auto insurance in Alaska, Hawaii and Louisiana, and only writes a select number of policies in Massachusetts.
While Nationwide stays away, many other companies write to Louisiana, but Insurance Commissioner Jim Donelon says it comes at a steep price.
"[Insurance companies] are very put off by what has been described by others as the 'legal hellhole' that Louisiana is," Donelon said.
According to the latest data published by the National Association of Insurance Commissioners, Louisiana has the highest auto insurance in the country, averaging $1,500. New Jersey and Michigan round out the top three. Louisiana is also higher than neighboring states like Texas, Mississippi and Alabama.
I don't think that's something we should be proud of.
Billy Hattala knows the ins and outs of trucks and has a garage to show for it. His latest projects are two classic pickups, but his main worry is the insurance on his everyday truck.
"Something doesn't smell right," Hattala said. "We have no tickets, no claims in the three and a half years, we have a good credit rating."
Hattala said his insurance on one vehicle has jumped seventy-two percent and his insurance agent explained it was because of "lawsuits from lawyers and distracted driving."
The numbers FOX 8 Investigates found, show that Louisiana is more litigious than any other state. In 2016, lawyers filed 3,300 auto liability suits in Orleans Parish. That amount is higher than Miami and Austin.
Factoring in population, the numbers are even more staggering. Lawyers in Oakland California filed 108 auto suits per 100,000 people. In Miami, it is 110 suits per 100,000 people, 169 in Austin, 234 in Houston and 275 in Dallas. New Orleans is the outlier with 853 auto suits per 100,000 people.
"[That is incredible] That is, but that's been baked into our rate base," Donelon said. "We are off the charts in claims to litigation. For decades that has been what has kept us top most expensive state in America for auto insurance."
Plaintiff attorney Walter Leger said the numbers don't tell the full story.
"There are absolutely more lawsuits filed in Louisiana than any other state," he said. "There are more accidents in Louisiana than other states. There can't be lawsuits without accidents."
We could not locate a breakdown of crashes by state, but according to the National Association of Insurance Commissioners, per capita Louisiana drivers filed the ninth most auto insurance claims. Maryland and Massachusetts are at the top of that list.
When asked if the legal environment is to blame, Leger asks, "How could it be? What is different about the legal environment in Louisiana than other states?"
One thing that does separate Louisiana from the rest of the country is what's called the state's jury threshold. Louisiana has a $50,000 jury threshold, that means a judge decides any case below that amount, anything over that amount -- a jury takes the case. The next highest jury threshold is in the State of Maryland where the threshold is $15,000. Thirty-six other states have no jury threshold.
"The reality is this -- If you look at our Jury threshold, you have cases that are filed that wouldn't get filed or you have cases going to trial that might not go to trial or you have settlements that are much larger than they would be if there was a jury stepping in," Doug Williams, general counsel with the Louisiana Motor Transport Association, said.
Insurance Commissioner Jim Donelon said the high jury threshold allows thousands of smaller cases to be filed and then settled.
"[They are] handed out left and right every day because it doesn't pay an insurance company to defend the litigation that comes with that claim," Donelon said.
According to the Property Casualty Insurers Association, fifty-three percent of all claims in Louisiana fall under the state's jury threshold.
"It is a workload," District Judge Robert Morrison said.
Morrison handles court cases in Livingston and Tangipahoa Parishes and chairs the legislative committee for the state's district judge's association. He said lowering the jury threshold would increase jury demand and slow down the justice system.
"I just don't see there's any correlation between this and lower insurance rates," Morrison said.
When asked why other states and judges can handle a lower or no jury threshold, Morrison said it is not how Louisiana's system is structured.
"It's just the nature and creation of our court system and how many judges are allocated and how many cases a judge can handle," Morrison said.
Morrison and Walter Leger said the Insurance Commissioner can't exactly say how much lower rates would fall if the jury threshold was reduced or eliminated. Donelon agreed but said, "I am perfectly comfortable to say they would go down."
One insurance company said the amount of lawsuits does impact rankings. The Southern Farm Bureau operated in six states. Louisiana accounts for 17 percent of their policies, but fifty percent of the company's lawsuits originate in Louisiana. The Farm Bureau told FOX 8 Investigates, "We believe our legal environment is a significant factor contributing to the high cost of insurance in this state."
"I think we do not have a legal problem, we have a perception problem and a PR problem," Leger said.
Within the past few weeks there has been some positive news on auto insurance rates in the state. State Farm, one of the largest suppliers of policies in the state, announced plans to reduce rates for the third time in nine months. They said this move is due to increased competition.
Copyright 2019 WVUE. All rights reserved.