680 people detained in largest single-state worksite enforcement operation in nation's history
ICE raids took place Wednesday morning at seven locations across Mississippi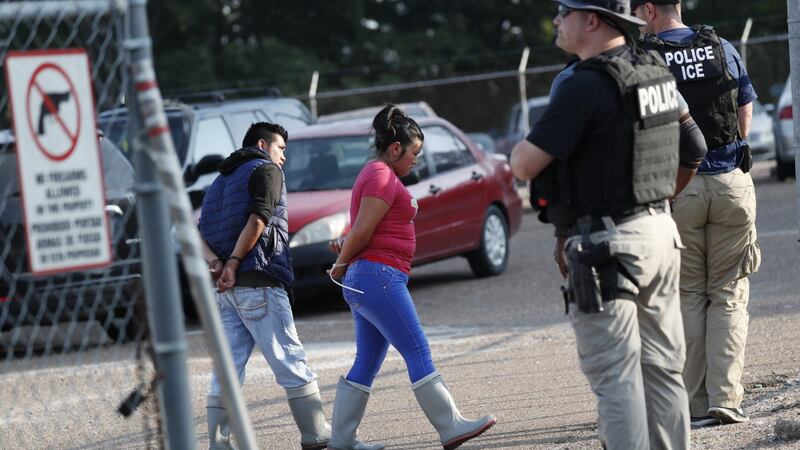 Updated: Aug. 7, 2019 at 7:44 PM CDT
JACKSON, Miss. (WLBT) - U.S. Immigration and Customs Enforcement's (ICE) Homeland Security Investigations (HSI), in partnership with the U.S. Attorney's Office for the Southern District of Mississippi, executed multiple federal criminal search warrants this morning for evidence relating to various federal crimes, as well as administrative search warrants searching for individuals illegally present in the United States, at seven sites across the State of Mississippi.
These locations include Peco facilities in Canton, Bay Springs and Sebastopol.
"HSI's worksite enforcement efforts are equally focused on aliens who unlawfully seek work in the U.S. as well as the employers who knowingly hire them," said HSI New Orleans Special Agent in Charge Miles.
"The execution of federal search warrants today was simply about enforcing the rule of law in our state and throughout our great country. I commend these federal agents, our state and local law enforcement partners, and our federal prosecutors for their professionalism and dedication to ensure that those who violate our laws are held accountable. We are a nation of laws, and we will remain so by continuing to enforce our laws and ensuring that justice is done," said U.S. Attorney Hurst.
As a result of today's operation, approximately 680 aliens were detained by HSI special agents. Some are being identified as being eligible for an alternative to detention based on humanitarian reasons. These individuals will be physically returned by HSI to their original place of detention and will still be required to appear before a federal immigration judge who will ultimately determine whether or not they will be deported. Currently, all cases are being handled via administrative law procedures at the U.S. Department of Homeland Security.
Family members of those detained can call ICE's toll-free detainee locator hotline for information about an individual's detention location and status, as well as information about the removal process. This hotline operates in English and Spanish. The phone number is 1-888-351-4024.
All of those detained are being interviewed, fingerprinted and photographed by ICE agents, processed for removal from the United States, and transported to an ICE facility in Jena, Louisiana.
Peco has since released a statement, saying:
We can confirm the Department of Homeland Security was on-site at three of our facilities in Mississippi this morning - Bay Springs, Canton and Sebastopol. We are fully cooperating with the authorities in their investigation and are navigating a potential disruption of operations.
We adhere strongly to all local, state and federal laws including utilizing the government-based E-Verify program which screens new hires through the Social Security Administration as well as the Department of Homeland Security for compliance.
Peco strives to be a competitive producer of quality products, maintaining respectful, ethical and transparent business relationships with all stakeholders. As such, we take all work stoppages seriously and are actively taking appropriate measures to best serve our team members' and customers' needs.
Jackson Mayor Chokwe Antar Lumumba has also released a statement calling for faith institutions to become safe havens for those in the country illegally.
The City of Jackson is firmly committed to promoting and securing safe communities. We unflinchingly uphold the canon of human rights for human beings. The ICE raids are both dehumanizing and ineffective as a tactic for protecting citizens from potential harm. These raids will only further alienate communities from law enforcement, disrupt community policing efforts, and cause law enforcement to forfeit credibility and trust among the people they are sworn to protect and serve. I'm calling upon faith institutions in our community to become sanctuaries for our immigrant neighbors and protect them from potential harm. The City of Jackson strongly objects to the Trump administration's ICE raids.
Southern Poverty Law Center Attorney Julia Solórzano, with the SPLC's Immigrant Justice Project, issued the following statement on today's workplace raids in Mississippi:
"Today's raids are part of the ongoing war against immigrant families and the communities in which they live. These sorts of raids terrorize workers and their families. What's more, today's raids needlessly ripped parents from their children during the first week of school. It is especially sickening that days after immigrants were targeted by a gunman in El Paso, Texas, workers at plants across Mississippi witnessed armed agents descending on their workplace. It's also worth noting that immigration agencies that have repeatedly blamed 'over capacity' detention facilities for the horrific treatment of those imprisoned nevertheless detained more than 600 people today. Our attorneys and advocates are closely monitoring the situation and exploring options to assist those impacted."
Lea Anne Brandon, Director of Communication for Child Protective Services, said the public should call their hotline at 1-800-222-8000 if they know of any child affected by the raid. CPS has licensed foster beds and emergency shelter waiting, said Brandon.
This operation is part of multiple ongoing criminal investigations.
Peco Foods will resume normal operations at their Canton and Bay Springs locations Thursday.
Copyright 2019 WLBT. All rights reserved.