Protesters sound off over a proposal facing a Public Service Comission vote this week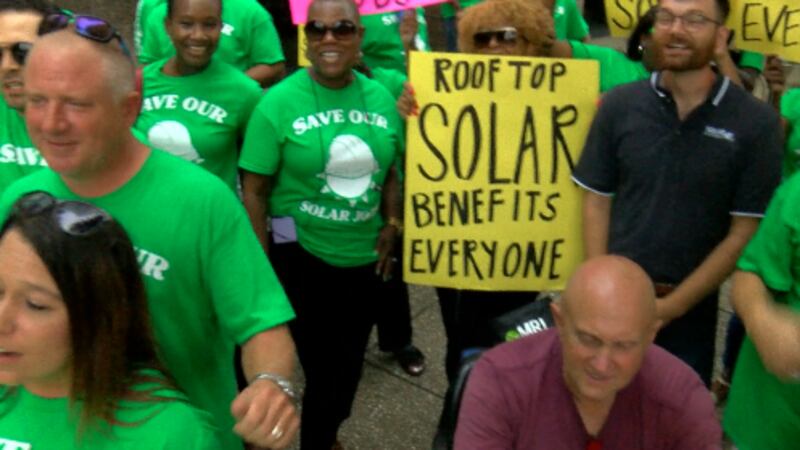 Published: Sep. 9, 2019 at 8:00 PM CDT
NEW ORLEANS, La. (WVUE) - A group of green energy advocates and environmentalists protested outside a local utility on Monday (Sept. 9) over a proposal the Louisiana Public Service Commission is expected to vote on later this week.
A spokesman for the PSC said the commissioners are to consider proposed adjustments to rules for so-called "net metering".
Net metering allows owners of solar power systems who generate excess electricity and add it to the power grid to get credit or reimbursement from their utility company.
The PSC said as part of the proposed rule changes, there is a recommendation to put in a grandfather clause for people who already have solar systems, or those who are in the process of installing a system and complete the work by the end of 2019.
The proposed clause would allow eligible utility customers to be credited at the "retail rate" for the excess electricity they produce for the power grid.
After 2034, they would get the market rate which the PSC says is lower than the retail rate.
Logan Burke, executive director of the Alliance for Affordable Energy took part in the protest. She said the proposed changes would kill net metering.
"The question is, are these public service commissioners standing up for the people of Louisiana or standing up for the business model of the utilities?" said Burke.
A spokeswoman for Entergy Louisiana issued the following statement:
"Entergy Louisiana has been working for years with all stakeholders at the Louisiana Public Service Commission to create a sustainable long-term policy for customers that choose to self-generate. The commission's proposed rule appropriately balances the interests of the 1 percent of customers that use solar to self-generate and export excess generation to the electric grid with the interests of the 99 percent that pay for excess solar output."
The PSC says the proposed changes would not impact residents of Orleans Parish who are customers of Entergy New Orleans, and it disagrees with critics who say net metering would end in the state if the proposed rule changes are adopted.
Copyright 2019 WVUE. All rights reserved.