'Geaux Bengals': Joe Burrow billboard goes up on I-71/75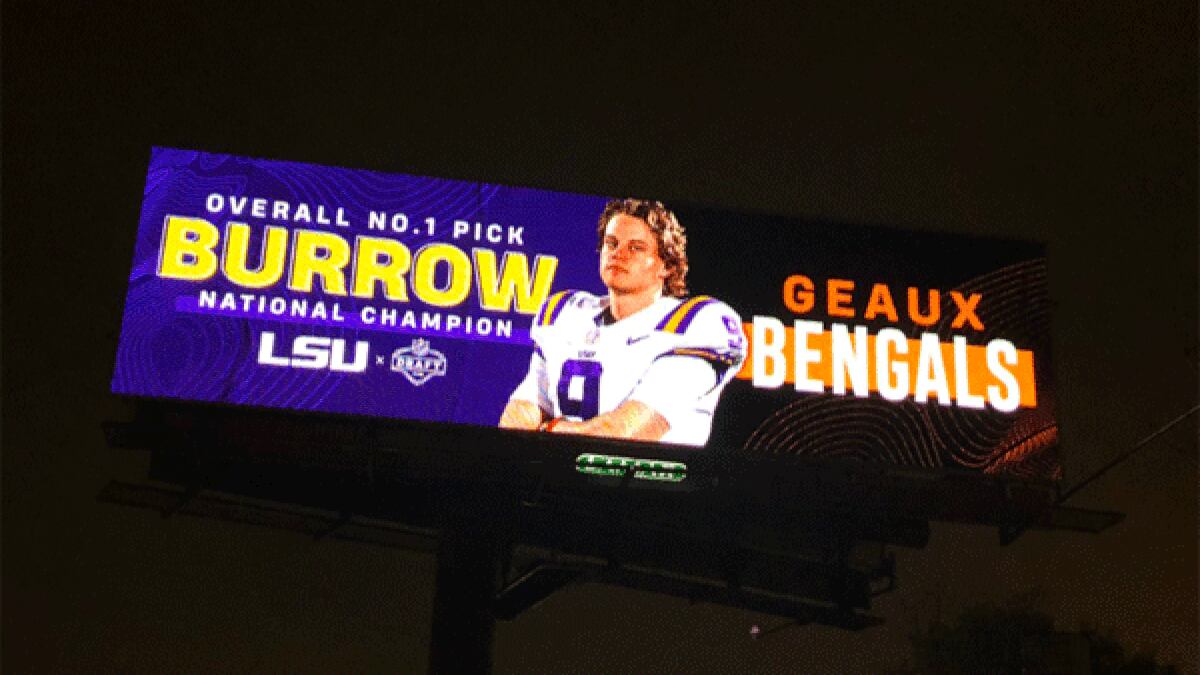 Updated: Apr. 24, 2020 at 7:39 AM CDT
COVINGTON, Ky. (FOX19) - A Joe Burrow billboard is up on northbound Interstate 71/75 at the 12th Street exit in Covington, just across the Ohio River from downtown Cincinnati and Paul Brown Stadium.
The Cincinnati Bengals made it official Thursday night by picking the Heisman Trophy-winning quarterback who was first overall in the 2020 NFL Draft.
Burrow is on the billboard wearing his Tigers uniform from Louisiana State University. The team's purple and gold are on the left side and mention his two most recent accomplishments — "overall No. 1 pick" and "national champion."
The billboard also says "Geaux Bengals" in the team's black and orange colors.
Koch Sporting Goods said they will take phone orders if you'd like to get your hands on a Burrow jersey, and they will be getting them in-store in a couple of weeks.
Head coach Zac Taylor calls Burrow, who is from The Plains near Athens, a "proven winner" with a high football IQ and an "earned confidence."
Burrow will have his work cut out for him.
Cincinnati is coming off of a 2-14 season and entering its second year under first-time head coach Taylor.
Jeremy Rauch: Joe Burrow's journey to franchise-changing quarterback
Joe Danneman: Bengals players impressed by Burrow: 'He's real'
Copyright 2020 WXIX. All rights reserved.