La. activist Gary Chambers blasts Connie Bernard in viral speech, leads call to remove Confederate symbols in state
Updated: Jun. 22, 2020 at 10:05 AM CDT
BATON ROUGE, La. (WAFB) - East Baton Rouge Parish School Board member Connie Bernard is now facing nationwide scrutiny following an impassioned speech from activist Gary Chambers at a recent school board meeting.
Chambers snapped a photo of Bernard allegedly looking at an online retailer during a board meeting at the same time that her colleagues discussed renaming a Baton Rouge high school named after Robert E. Lee.
During his time at the podium, Chambers addressed Bernard's apparent disinterest in the subject.
"You sat your arrogant self in here and sit on [the computer] shopping while the pain and the hurt of the people of this community is on display," said Chambers. "You should walk out of here and resign and never come back, because you are the example of racism in this community."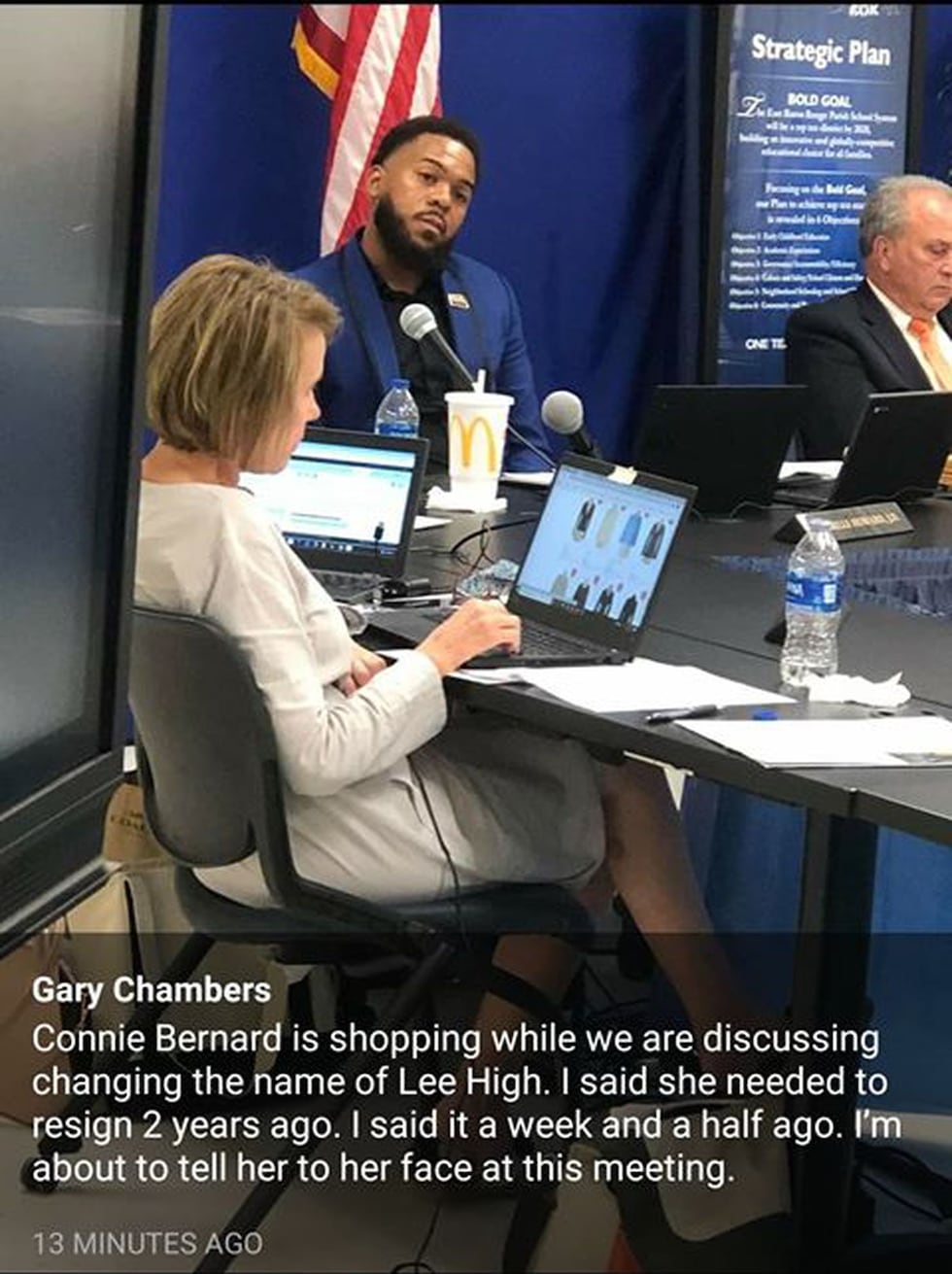 Supporters of Chambers' words and a movement for Bernard to resign have chimed in on social media around the country, including NFL hall of famer Shannon Sharpe and NBA legend Lebron James.
Chambers has since appeared on national television and expanded the call to remove Confederate symbols from all public institutions in Louisiana.
"I think that what is happening in Baton Rouge is what's happening with black folks all over America. In the words of Fannie Lou Hamer, we're sick and tired of being sick and tired," said Chambers in an interview with MSNBC.
Bernard is also being criticized for her comments implying members of the public needed to do more research into the legacy of Confederate commander Robert E. Lee before supporting calls to strip his name from a Baton Rouge high school.
Read also: Connie Bernard faces renewed calls for resignation from colleagues on EBR school board, community over Robert E. Lee controversy
Read also: School board favors hearing new names for Lee High School
Two of Bernard's colleagues on the school board have joined the call for Bernard's resignation.
Bernard released an apology and explanation to The Advocate newspaper, but did not return multiple requests for comment from WAFB.
Click here to report a typo.
Copyright 2020 WAFB. All rights reserved.