Where the jobs are in Louisiana: La. Workforce Commission & an employment agency provide answers
Updated: Jun. 30, 2020 at 6:11 PM CDT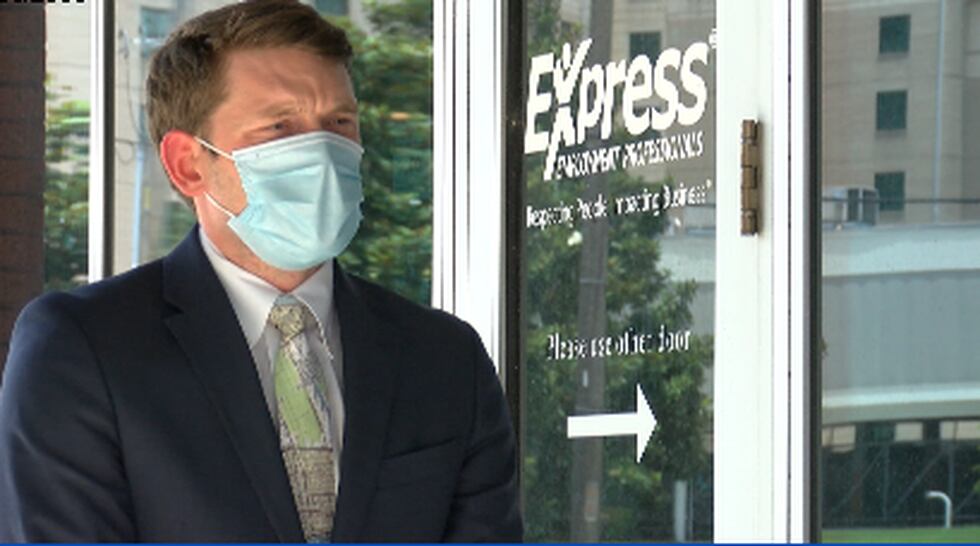 NEW ORLEANS, La. (WVUE) - The Louisiana Workforce Commission or the labor department and a local employment agency said there are plenty of employers in need of workers despite the ongoing coronavirus pandemic.
At Express Employment Professionals in New Orleans staffers made calls to prospective employees on behalf of employers. Chris Carden is the owner of the agency.
"There are many more jobs right now than there are job seekers that feel safe to go out and work at this time, so that's been a battle, but it does tell us that things are improving," said Carden.
He ticked off a list of industries in need of workers as the economy has reopened in a limited way.
"Right now, we've seen the biggest number of orders from those warehouse distribution [centers], food production, a lot from civil construction companies, so those are our three biggest and then warehousing and logistics particularly at the port. We've received a number of calls from those types of companies lately," Carden said.
He said some other sectors of the job market are in need of employees, as well.
"We are still getting some administrative jobs in finance and accounting as well, too," said Carden.
The Louisiana Workforce Commission gave its take on the employment picture amid the pandemic. Ava Dejoie leads the LWC.
"And right now, there are over 7,200 active job orders on our site in the Greater New Orleans area. The vast majority are in the healthcare and social assistance sector," said Dejoie.
Dejoie urged people in the market for a job to go to LWC's HIRE site.
"Construction, healthcare practitioners 639 jobs, if you look at management occupation, 106 jobs, transportation and material movement occupation 96 jobs, so it just depends and actually those are job orders with more openings attached to them, so the transportation and material moving sector has 96 job orders, that has 265 jobs attached to it," Dejoie said.
The temporary $600 per week federal stipend for the unemployed runs out at the end of July.
"I think it's going to be those that are coming, entering the workforce when employers are most in need that will remain with those employers and also those that come in first will be the ones that are hired," said Dejoie. "And with the federal $600 running out July 25 or stopping July 25 now is the time for people to begin work search and to go back into the economy and go back to work because it going to be those people that get there first that get the greatest opportunity."
LWC said there are also large numbers of job orders or job openings in retail trade, administrative support, waste management and remediation, accommodation and food services and professional scientific and technical services.
And then there is the Congress, some people urge members of the U.S. House and Senate to pass more federal help for the jobless and people struggling to pay their rent.
Sen. Bill Cassidy, Louisiana's senior U.S. senator was asked about that during a video-conference on Tuesday (June 30).
"I'm told about 50 percent of the money already allocated which probably approaches $3 trillion, 50 percent has not yet been spent. It's slowly going into the economy to help support it, but inevitably creating jobs. I think we have to wait and see," said Cassidy.
Cassidy said he too is hearing from employers eager to hire workers.
"I will speak to employers, they are ready to hire people back and if they hire people back, obviously, they're off unemployment," said Cassidy.
Carden said in a lot of cases people who apply for jobs get them fast.
"The easiest thing to do is just give us a call. You give us a call we can conduct a phone interview, and in some cases have you working the next day," said Carden. "I'd say there are a wealth of jobs right now. We definitely have more open jobs this time currently than we did last year, which is crazy, but we don't have enough people for them."
On July 9, the La. Workforce Commission is holding a virtual job fair from 9:00 AM to 1:00 PM.
Information about registration is below:
Employer Registration – https://www.jobsconnected.com/registration-employers-lwc/
Job-Seeker Registration – https://www.jobsconnected.com/lwc/
Copyright 2020 WVUE. All rights reserved.