White House Task Force notes 'stability' in Louisiana, recommends 'aggressive' testing for shrimpers
The weekly report also recommended university labs be utilized to increase testing for K-12 schools, universities
Updated: Aug. 11, 2020 at 1:42 PM CDT
NEW ORLEANS, La. (WVUE) - The White House Coronavirus Task Force notes 'stability' in new cases and percent positivity in tests in the latest report sent to Governor John Bel Edwards on August 10, but does add new recommendations for Louisiana leaders to consider in their response to COVID-19.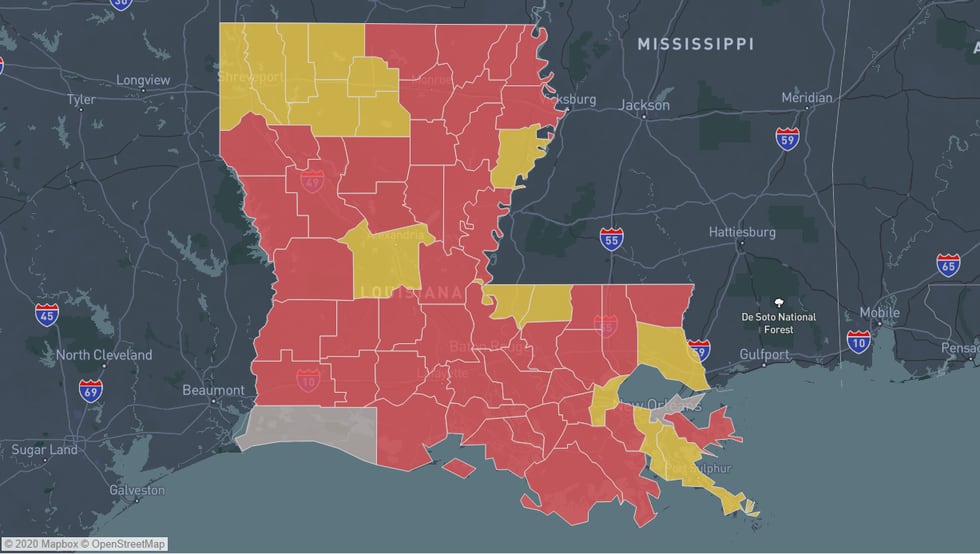 The report distributed to governors across the country compiles data from the week prior, classifying the state and parishes that have concerning numbers into either a 'Red' or 'Yellow' Zone. The report on August 10, classified 47 parishes in the 'Red Zone' where the task force recommends the most severe restrictions. Fifteen parishes were classified in the 'Yellow Zone' which in the task force's view recommends restrictions that are less severe than the 'Red Zone.'
This is the first report from the White House task force that did not classify Orleans Parish in a 'zone.'
Governor John Bel Edwards was on a call with the White House on Monday and is expected to address the latest numbers and response to COVID-19 in a press conference at 2:30 p.m. Tuesday.
The White House report said while the state is still listed as a 'Red Zone' for cases and test positivity, the state has seen "stability" in both areas "demonstrating the impact of aggressive mitigation efforts. The task force noted the efforts "are leading to a blunting of the epidemic in New Orleans."
The group did add two new recommendations to this week's report to stop any possible outbreaks in two settings -- shrimpers and schools.
The Task Force recommended Louisiana consider 'aggressive testing expansion among shrimpers' noting that a program involving fishermen in Alaska helped prevent a significant outbreak in that state. In mid-May, the Louisiana Department of Health said they were addressing outbreaks at crawfish farms in Central Louisiana and increasing testing in those areas.
The task force also recommended the state require universities that have RNA detection platforms to be used as a way to expand testing for K-12 schools, community colleges and universities. Many K-12 schools in the state are in the process of attempting to re-open and start the new school year, while Universities in the state will be starting in the coming weeks.
Copyright 2020 WVUE. All rights reserved.
Click Here to report a typo.