"We are very lucky," Terrebonne residents survey damages after Zeta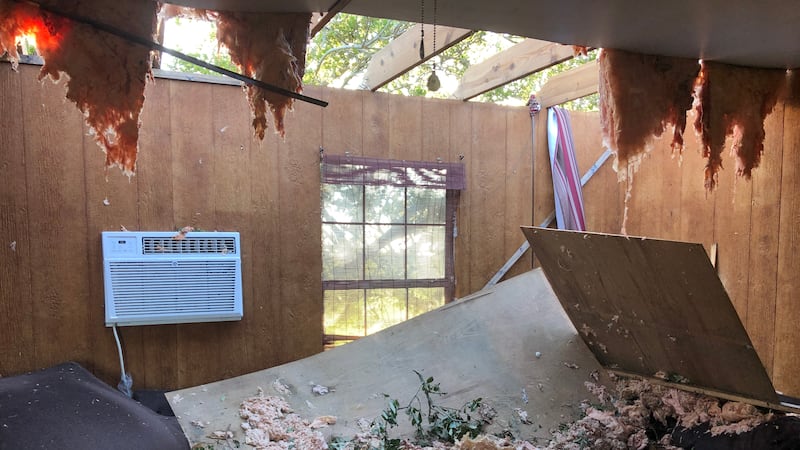 Updated: Oct. 29, 2020 at 9:50 PM CDT
NEW ORLEANS, La. (WVUE) - The sun shines through portions of Terry Dardar's Pointe Aux Chene roof.
"We had storms before but nothing ever like this, like this bad," Dardar said.
She and her family originally did not have plans on leaving.
"Me and my mom and dad we usually evacuate but she doesn't," explains Dardar's sister, Stacey Verdin. "But she's the one who woke up at five o'clock in the morning texting us saying that the storm was coming to us and it's time for us to go."
Dardar says as she was watching the forecast Wednesday morning, she made the last-minute decision to evacuate with her husband and daughters.
"I'm not one who leaves fast but I got up everybody out of here," she said.
Most of the roof is in the backyard with other debris. Inside, the beds are ruined.
It is a similar scene down Highway 665, portions of Malcolm Brunet's roof is also mangled.
"It shook the house," said Brunet, whose brother filmed some of the storm. "When it came in from the south, it shook the house real bad. Then the north, it shook the house real bad."
Terrebonne Parish officials say three teams spent Thursday surveying damages. Leaders say the worse damages happened in Pointe Aux Chene, Lower Montegue and Chauvin, and Cocodrie.
While down powerlines, debris, and lack of power were headaches for the rest of the parish.
Without power, Adam Dufrene and his wife spent the day visiting friends and helping them clean their yards, "we just went down the road and help another fella, friend of ours help cut down the tree."
This was a similar sentiment for many in the parish. Those who could, are helping their neighbors.
"It's sad because this is our little town and it's just flipped upside down right now and we don't know how we're going to pick it all back up," Savanna Young said.
But she says they're starting piece by piece.
Copyright 2020 WVUE. All rights reserved.
Click Here to report a typo.