After Further Review: Five takes from the Saints loss to Chiefs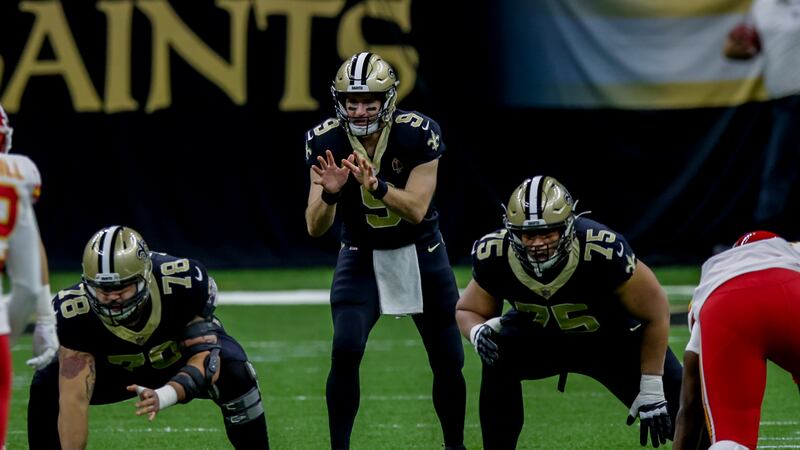 Updated: Dec. 21, 2020 at 12:31 AM CST
NEW ORLEANS (WVUE) - Take one: Stat of the Game
The Chiefs possessed the ball for over 41 minutes. The Saints had it for under 19.
I couldn't think of a worse formula for success than to give Patrick Mahomes and that Kansas City offense a 22-minute edge in time of possession.
After processing how this game went, it's truly amazing that it was as close as it was. Usually, that kind of disparity results in a 30-point loss. The Saints made it a respectable three-point defeat.
They were able to hang in mainly because of the defense. They certainly weren't perfect, but they gave the offense enough opportunities to stay in it. Thirty-two points allowed on 92 Chief offensive plays isn't a bad ratio.
The skewed possession numbers fall squarely on the shoulders of the offense. The Saints just couldn't stay on the field. A team that prides themselves on third down, only managed to convert 1-of- 11 tries. The lack of conversions led to a lack of plays, which led to a lack of possessions.
Look no further, that's why the Saints lost the game.
Take Two: Drew Brees returns
The biggest storyline heading into Sunday's game was Drew Brees' return to the lineup. Frankly, Brees looked like a guy that hadn't played in four weeks.
He opened the game with six straight misfires. He didn't complete his first pass until the 13:01 mark of the second quarter. Brees really didn't settle into the game until he found Emmanuel Sanders on a 51-yard connection. But even after that, he never looked like himself until the Saints final drive of the game.
He finished 15/34 passing for 234 yards, with three touchdowns and an interception.
Brees admitted afterwards he's still not 100%, but getting there. The good news is his issues Sunday had more to do with rust and timing, instead of health.
Take Three: Separation anxiety
At one point in the game, I looked down from the press box and saw Juwan Johnson, Lil'Jordan Humphrey and TommyLee Lewis on the field as the Saints wide receivers on a play.
Immediately, I thought there is simply no matchup they could possibly like with those three players on a pass concept. Those are three developing guys, who have a chance to stick in the NFL. But they're certainly not at a point to depend on them against the defending champs in December.
Obviously, they weren't on the field on every play, but it gives a snapshot into the disadvantage the Saints had at the receiver position.
Part of the reason for Brees' ineffectiveness was on at least half of his incompletions, Brees simply had no one open to throw it too. No one seemed to be able to consistently separate from defenders.
This is something to monitor as the team closes out the regular season without Michael Thomas. Players like Sanders and Jared Cook will have to play a bigger role in catching the ball.
Take Four: Mahomes Magic
For all intents and purposes, Mahomes had a fairly pedestrian game from a statistical standpoint. He didn't throw for over 300 yards, and completed just 55% of his passes.
Still, it's hard to watch that game, and not think he was the best player on the field.
After seeing him in person, I gained a greater appreciation for Mahomes off-platform throws and passes from awkward angles. It's also telling how much the Chiefs offense run plays to essentially take advantage of the throws that other quarterbacks wouldn't even attempt.
Of course, when the play breaks down, Mahomes is able to extend. His touchdown throw to Mecole Hardman was an absolute thing of beauty. He rolled to his left, the short side of the field, avoided a rusher, then patiently let Hardman come across the field and dropped a dime in the back corner.
The Saints had great coverage on that play, Mahomes just had a little more magic.
Take Five: Other observations
* Football is a game of inches, just ask Alex Anzalone. Anzalone had a clear shot to recover Demarcus Robinson's fumble on a punt return at the end of the first half. Somehow, as he jumped on the ball, it slipped through his grasp and rolled out of bounds. The safety gave the Saints two points, but a touchdown would have given them at least six. The difference in the game was three.
* Cam Jordan has to be smarter than that. It wasn't a very violent swing by Jordan, but still he can't put himself or his team in that position with his ejection.
* Incredible effort from Trey Hendrickson, Sunday. He got to Mahomes twice, and constantly beat Eric Fisher to give consistent pressure. His sack-fumble helped save the Saints when it could have gotten out of control when they were down, 29-15.
* Overall, the Saints pass rush was the reason the defense was able to keep the team in the game.
* Excellent awareness from Latavius Murray on his touchdown. He stopped a blitzer clean in his tracks, then found a spot in the flat. When Brees came back to his left to buy some extra time, Murray caught the pass, then raced to the end zone.
* How about that finish on Taysom Hill's touchdown run?! He trucked Willie Gay about two yards into the end zone.
* Let's talk officials on Sunday. They weren't great. There was clear confusion on the offensive lineman catch on whether or not it was a loss of downs. They initially ruled the Anzalone play a touchback before correcting themselves. On a Brees completion to Cook, near the end of the first half on the sideline, Cook clearly went out of bounds. Then officials somehow ruled that Cook's progress was stopped.
* Losing Marcus Williams could have a big impact on this defense. Hopefully, he will be okay after leaving the game in the second half.
Copyright 2020 WVUE. All rights reserved.
See a spelling or grammar error in our story? Click Here to report it. Please include title of story.