Today marks the one-year anniversary of the strongest tornado to hit the city of New Orleans
An EF-3 tornado caused extensive damage and killed one person in Arabi one year ago today
Published: Mar. 22, 2023 at 4:53 PM CDT
NEW ORLEANS (WVUE) - It only took sixteen minutes to change one New Orleans area neighborhood forever. While many were settling in for the night, a tornado touched down at 7:21 PM near Harvey and tore through several New Orleans suburbs in just a matter of minutes.
The tornado touched down in Jefferson Parish and moved through Harvey, Gretna, and Algiers as an EF-0, gaining strength once it moved over the river onto the east bank. The most extensive damage was in Arabi in a swath between the Mississippi and Bayou Bienvenue.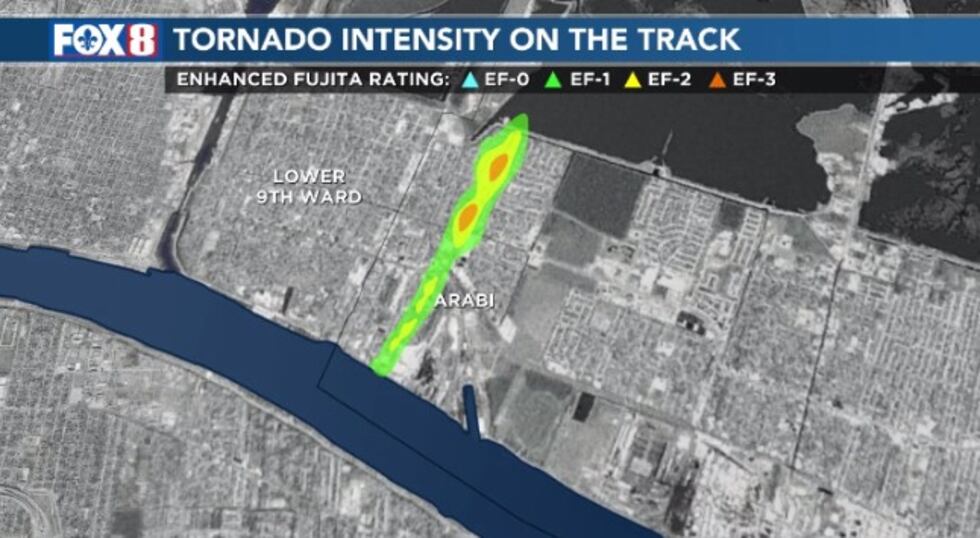 Many homes within a four-block radius in Arabi received minor damage to substantial roof damage. Several had exterior walls collapse, leaving the interior walls intact. One fatality was reported near where a home was raised off its foundation with all of its walls and roof destroyed.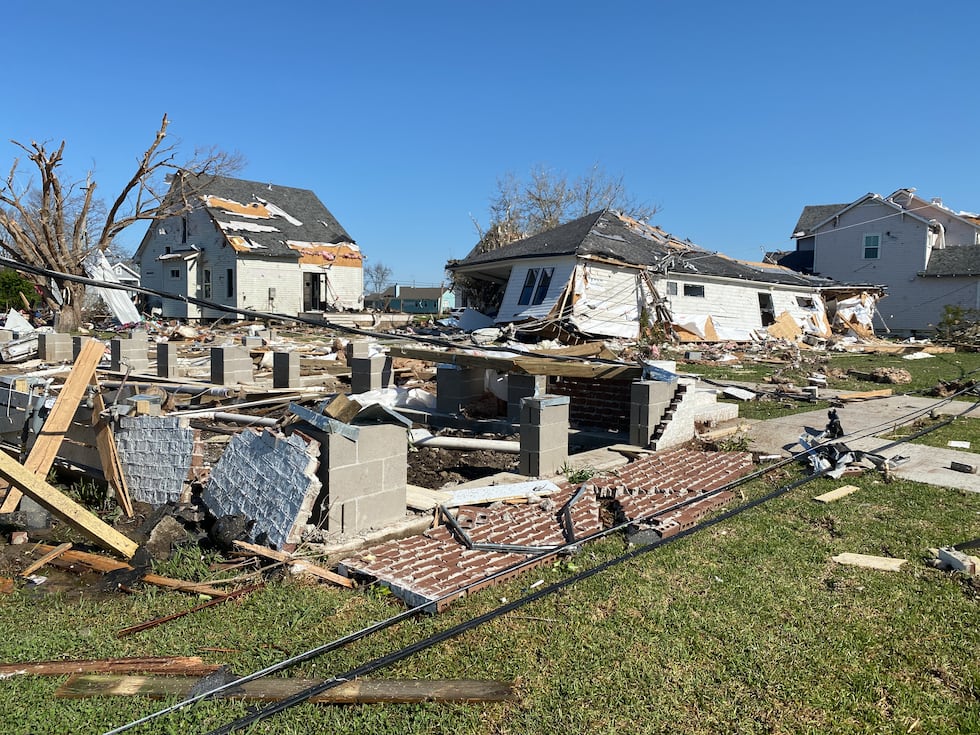 The tornado crossed the intercostal waterway and into east New Orleans where it continued to wreak havoc. Several homes were damaged as it travelled between Chef Menteur Highway and Joe Brown Park near Coronado Avenue. The tornado lifted at 7:38 PM before it was able to enter Joe Brown Park.
Meteorologist Zack Fradella breaks down the timing and intensity.
A National Weather Service survey rated this tornado as an EF-3 with damage consistent from winds of 160 mph. The damage path extended 11.5 miles with a maximum with of 320 yards. Unfortunately, along with the one fatality, there were two injuries reported.
The March 2022 tornado is the strongest on record for the city of New Orleans in modern times. The second strongest was in February of 2017 when an EF-3 tornado ripped through New Orleans East and injured 33 people. That tornado had estimated winds of 150 mph.
While the March 2022 tornado was the strongest to hit the city, it's not the strongest to hit the metro. LaPlace was struck by a tornado with winds estimated between 207 and 260 MPH in December of 1983. It measured as a F4 on the Fujita scale. That would be considered an EF-5 on the modern Enhanced Fujita scale used by the NWS since 2007.
See a spelling or grammar error in our story? Click Here to report it. Please include the headline.
Copyright 2023 WVUE. All rights reserved.