North Shore 5th grader becomes third person in family diagnosed with rare stomach cancer requiring life-changing surgery
Published: May. 11, 2023 at 11:31 PM CDT
NEW ORLEANS (WVUE) - A North Shore family is about to face their biggest test. We first introduced you to the Holley family last year. The dad and oldest daughter suffered from stomach cancer and had to undergo a gruelling surgery to remove their stomachs to survive. Now, the family faces yet another challenge, one they've been dreading as they try to spread awareness of the rare genetic condition testing their faith.
Inside a math class at Lancaster Elementary in Madisonville, the fifth graders study hard, preparing for leap tests and looking forward to the end of the year. But while most of these kids will head to camp or hang with their friends over the summer, 11-year-old Ava Holley prepares for a life-changing procedure.
"It was a shock because you don't think something like that can happen to someone so young and innocent," said Kellie O'Brien, Ava's teacher.
We first met Ava and her family last year. At the time, her 16-year-old sister, Zoey and her dad, Corey, were recovering after having their stomachs removed. They both suffered from a rare hereditary stomach cancer.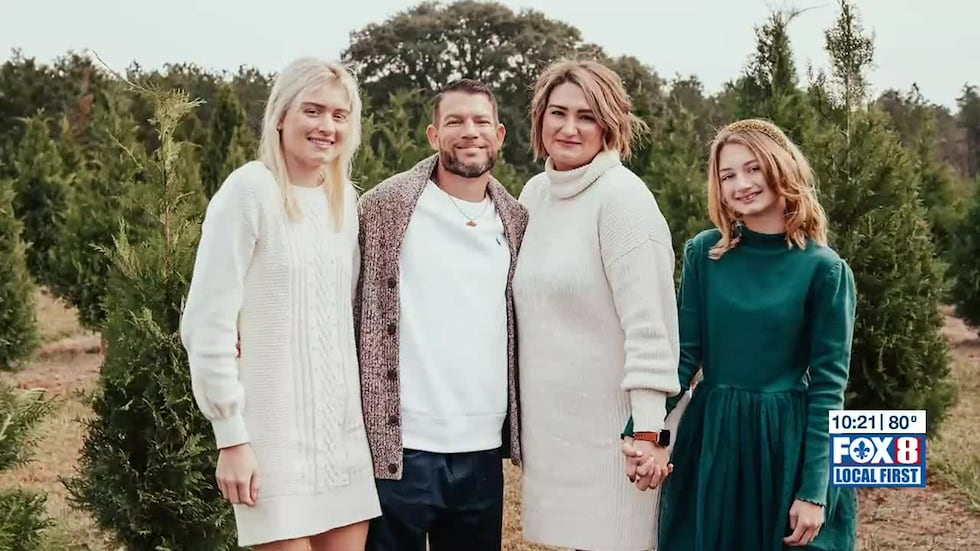 "Mine was stage three. It was throughout the whole stomach," Corey Holley explained.
"I wasn't scared because I feel like they wouldn't remove my stomach if I couldn't live without it. I wasn't scared for that part, scared for surgery though," Zoey Holley said last year.
Their doctor says the surgery involves attaching the esophagus to the small intestine to allow small portions of food to be eaten and digested. Complications for both Zoey and her dad abounded. In fact, Corey says there were times he didn't think he would make it.
Within just a few months time, the Holley's world turned upside down. After years of stomach problems, like pain while eating, and vomiting, they learned Corey carried the CDH1 gene, which causes diffused gastric cancer. They found out his mother also carried the gene, which he passed on to his daughters, Zoey and Ava.
RELATED STORY: Father, two daughters diagnosed with rare stomach cancer within months of each other
Corey explains, "They say if you have the gene you should have the stomach removed because it's going to grow sooner or later."
Last year the family knew Ava had cancer cells in her stomach but were hopeful she could live a normal childhood. A recent trip to St. Jude Children's Research Hospital for a routine check-up proved otherwise.
"I got a call on the Monday we got back that there were cells all along the bottom lining of her stomach, so he told me that at this point, it was time to take the stomach out because there is a lot of inflammation and there were a lot of cells," Heather Holley recounted. "I was devastated. It's like Zoey, and now Corey just made a year and it's like bam, now it's Ava's turn."
Breaking the news to Ava was one of the hardest things Heather says she's had to do.
Ava Holley recalls, "She said we needed to talk and she said my stomach has been getting worse and we need to take it out before it gets worse."
"I feel like we're robbing her childhood I mean, could we wait? Possibly but would it be too late? You just never know," Heather Holley tearfully explained.
Left untreated, doctors say diffused gastric cancer can be deadly. Heather talks with other families afflicted with this disease and knows it could be a life-or-death situation.
"It is scary and I'm scared, I'm petrified like knowing that I have to walk in that OR with her & watch her go to sleep and knowing there may be complications, it's just hard," Heather Holley stated.
Having your entire stomach removed, it's a hard concept for anyone to wrap their mind around, especially if you're a child. But Ava knows this may be a way to make her feel better.
Describing her symptoms, she says, "Throwing up, and just every time I eat, it hurts."
She's hidden it well from her closest friends and teachers.
"There maybe have been one or two times where she hasn't really felt well and we've dealt with it but that's it, other than that she's been really great," O'Brien said.
But Ava recently decided to share her diagnosis with her classmates to help them understand what she's been going through.
O'Brien explains, "A couple of them knew, the rest of them were kind of shocked, they did have some questions, your normal questions."
Reacting to the news that their young friend has cancer, O'Brien explains, "It seems like they're forming their own little family around her, she is never alone."
That support is much needed both for Ava and her family.
Corey Holley says, "You've got three women and when they're all crying, you feel helpless like what can I do, I'm supposed to be there and it's just hard."
With medical bills mounting, the reality of three cancer diagnoses between her husband and two girls in just one year's time overwhelms Heather. She's the only one not battling stomach cancer in her house and struggling to be her family's rock.
Heather Holley tearfully explains, "It's hard and I don't think anybody actually fully understands. They'll be like, it's fine you've been through it already, it's hard to tell someone you've been through it already when you haven't seen it."
Little Ava says she knows there's a reason she's going through this right now. She's facing a new normal in the weeks and months ahead. It won't be easy but this 11-year-old is resolute in her faith, believing this is part of a bigger plan.
"I guess God wanted us to be brave and he knows we're going to get through this and he knows we're going to get through this, any way or another, and it's meant to be," Ava Holley said.
Ava's surgery is scheduled for next month at St. Jude. She's expected to spend at least a month in the hospital recovering. She hopes to be able to start school on time in August, but that will all depend on how quickly she recovers.
The family started a Go Fund Me account to help pay their medical expenses. You can donate by clicking here. Fundraiser by The Holley's : Ava Rae Strong Kickin Stomach Cancer (gofundme.com)
See a spelling or grammar error in our story? Click Here to report it. Please include the headline.
Copyright 2023 WVUE. All rights reserved.