Comfortable temperatures continue, storm chances stay low
The mostly dry conditions stick around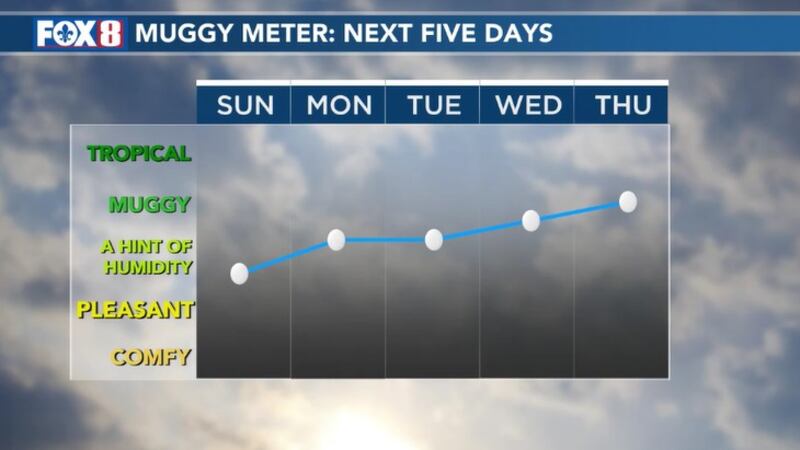 Published: May. 27, 2023 at 3:58 PM CDT
NEW ORLEANS (WVUE) - A mostly dry and comfortable forecast continues for a few more days until storm chances are back by the middle of the new work week.
We'll head into tonight partly cloudy to mostly clear with lows falling back to the 60s. Expect a mostly sunny start to Sunday with a less than 20% chance for showers and storms. Highs return to the middle 80s with a light and variable wind. A few late-day clouds will move back in.
For Memorial Day, highs return to the upper 80s under partly cloudy skies. Humidity should stay pretty low as dew points will average around 60 degrees, Tuesday could be our first time in a while hitting 90 with mostly sunny skies. If we don't hit 90, we should come close.
By Wednesday, a trough over the northern Gulf of Mexico will bring scattered chances for rain and storms. Those chances could linger for the rest of the work week. Highs will continue to stay in the mid to upper 80s and humidity will ramp back up again.
See a spelling or grammar error in our story? Click Here to report it. Please include the headline.
Copyright 2023 WVUE. All rights reserved.