The Golf low will bring passing showers and storms to our area today
Invest 91-L will remain out in the Gulf but still bring us rain
Published: Jun. 1, 2023 at 11:36 AM CDT
NEW ORLEANS (WVUE) - While Invest 91-L is still over 250 miles from our shoreline, it's still bringing a few passing showers and storms today. They'll track from east to west as they follow the motion the storm brings from the Gulf. We'll have a breezy easterly wind at around 10-15 MPH with a few clouds and cooler daytime highs in the 80s.
Hurricane Hunter planes will be flying into Invest 91-L around the 1 o'clock hour. That's when we'll know more about this system. In the meantime, what we do know is that it won't be moving inland. It'll be moving south over the next couple of days into an unfavorable environment. So even if we do end up getting a named storm, it appears it will be short-lived.
New today, Colorado State University has released an update to their hurricane season projections. They have bumped up their forecast slightly, making the projections towards a normal season for the year. They're citing the warmer than normal water in the Atlantic and the Carribean as to the reason why. The warm waters could work to counter-act the wind shear that an El Nino should bring to the area.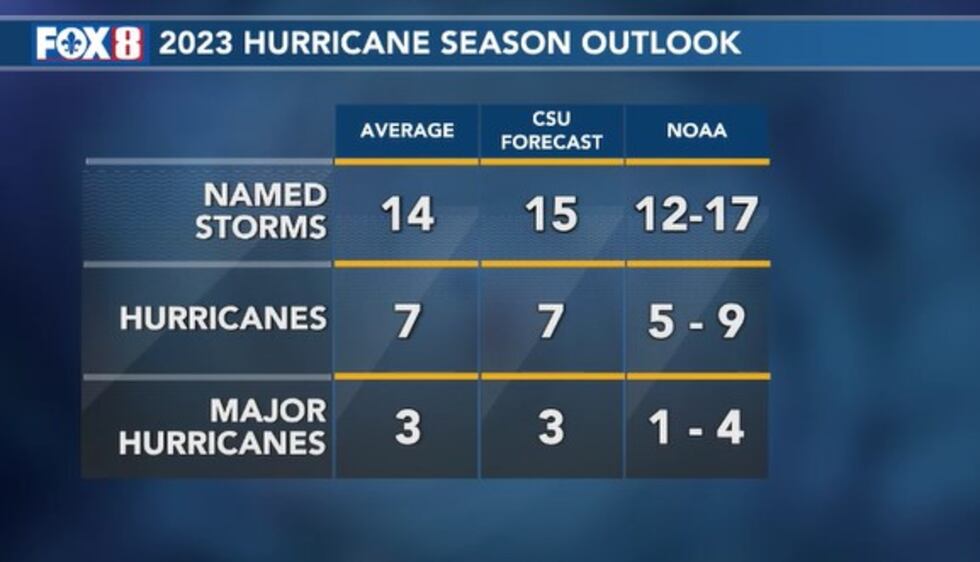 See a spelling or grammar error in our story? Click Here to report it. Please include the headline.
Copyright 2023 WVUE. All rights reserved.