LSU takes Game 1 on Beloso go-ahead HR in 11th; Floyd electric with 17 Ks
Published: Jun. 24, 2023 at 9:35 PM CDT
|
Updated: Jun. 24, 2023 at 10:29 PM CDT
OMAHA, Neb. (WAFB) - The LSU Tigers are looking to avenge their 2017 Men's College World Series loss to Florida, in a rematch at the 2023 MCWS Final between the Tigers and Gators.
Ty Floyd got the start for the Tigers and was electric, striking out a career-high 17 batters, tying the nine-inning record of 17 in an MCWS game, through eight innings pitched, while allowing five hits, and three runs. Floyd's 17 strikeouts are the school record for most in the CWS. Riley Cooper (5-3) entered the game in relief again and earned the win.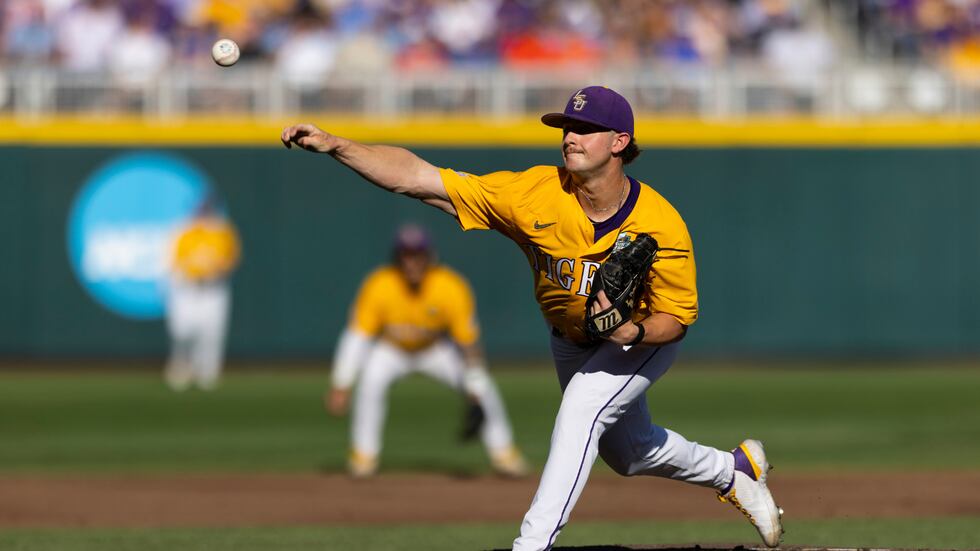 However, the Tigers struggled when runners were on base. They left 16 stranded and were 1-for-12 with runners in scoring position.
LSU got things started in the top of the first inning as Dylan Crews came around to score for the Tigers on an RBI single from Cade Beloso to put them up 1-0.
The Tigers added another run on a solo home run to right field from Gavin Dugas to make it 2-0.
Florida got on the board in the bottom of the third inning with two runners on as Jac Cagilanone scored Cade Kurland from third to make it 2-1. Cagilanone picked up his 85th RBI of the season, the most in Gator history. Floyd struck out Josh Rivera to end the inning and the Gator threat.
The Gators then tied the game in the bottom of the fifth inning after Ty Evans started the inning off with a double and later scored on an RBI groundout from Kurland to make it 2-2.
In the bottom of the sixth inning with two outs, BT Riopelle blasted a solo shot to right field to give the Gators their first lead of the game at 3-2.
The Tigers tied things back up in the top of the eighth inning as Tommy White launched a solo home run to left field to make it 3-3.
With the game still tied at 3-3 in the ninth inning, the Gators had the winning run on second base with two outs, but Cooper struck out Richie Schiekofer to end the inning.
Florida threatened again in the bottom of the 10th inning with runners on first and second with one out and their two best hitters due up. Cooper, however, shut the door by getting Wyatt Langford and Cagilanone to fly out to end the inning. He also got some help from Josh Pearson, who made a game-saving catch in left field.
Beloso then put LSU on top in the top of the 11th inning with a solo home run to right field to give the Tigers a 4-3 lead.
Click here to report a typo.
Copyright 2023 WAFB. All rights reserved.