Saints tight end Jimmy Graham 'didn't want to play anywhere else'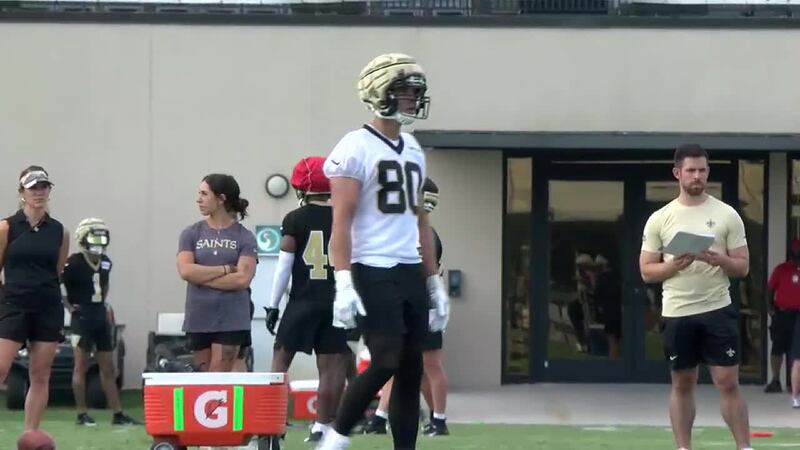 Published: Jul. 31, 2023 at 4:21 PM CDT
NEW ORLEANS (WVUE) - It's been nine long years away, but Jimmy Graham is back in the Black and Gold. Graham played for three other NFL teams, but nothing compares to Saints.
"I've been trying to come home for a long time. Last year I had some conversations, and I determined I didn't want to play anywhere else. I had a few teams reaching out. All teams in the playoffs. I just couldn't see myself wearing another jersey," said Jimmy Graham.
Graham didn't want to leave in the first place. But a trade in 2015 to Seattle changed all that.
"For me, it was pretty shocking honestly. I thought I would never leave this place. Obviously this league is a business. I woke up to the part of the business that hurts. For me it was difficult," said Graham.
Graham played in the postseason three times with the Saints. He can see the potential of a fourth postseason run.
"To see how much talent is on this team. Players that this team has. The team that has been built here is unbelievable. So much talent on both sides of the ball. I'm excited to see it. Spread some of my knowledge, and things I've learned in my career," said Graham.
Some of that wisdom will be laid on New Orleans native Foster Moreau. The fellow tight end has been familiar with Graham's game since his time at Jesuit.
"Jimmy was a dog, and he still is. He runs great. And so it's just, he walks in the locker room, oh my God Jimmy Graham is right there. It's pretty funny. I actually have a signed, Jimmy Graham autographed jersey in a shadow box in my dad's house in my room. It's a weird situation, weird, weird, weird," said Foster Moreau.
See a spelling or grammar error in our story? Click Here to report it. Please include the headline.
Subscribe to the Fox 8 YouTube channel.
Copyright 2023 WVUE. All rights reserved.