Bruce: We can't beat the heat as more 100° days are likely through the week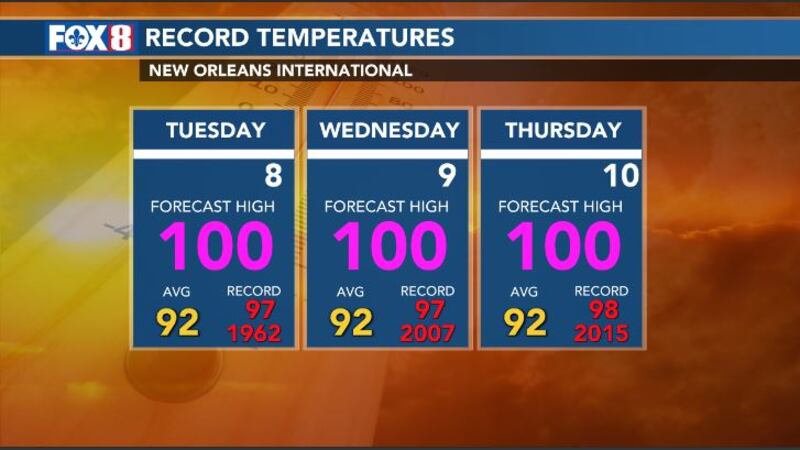 Published: Aug. 7, 2023 at 3:26 PM CDT
NEW ORLEANS (WVUE) - It looks like we won't get a beat from the heat any time soon as high temperatures will rise to at or near 100° through at least Friday.
The center of the high shrunk north to south but has elongated east to west. As a result, the dry sinking hot air will continue as storms and best rain chances stay to our northeast. a Highs reached the 100 degree mark both Saturday and Sunday. Monday afternoon is likely to make the mark as well. That would be the first time three days in a row of 100 degree temperatures would be recorded at MSY (airport in Kenner) which began record keeping in 1946. The Audubon gage has recorded 4 days consecutively at 100 degrees in 2015, 2007 and 1924 each time in the month of August. This trend is expected to continue for at least the next week and a half.
For now there are no tropical concerns.
See a spelling or grammar error in our story? Click Here to report it. Please include the headline.
Subscribe to the Fox 8 YouTube channel.
Copyright 2023 WVUE. All rights reserved.