Double homicide began as vape shop robbery that ended in deadly shootout, police say
Authorities share surveillance camera images, ask for help identifying 2 customers, third robbery suspect
Published: Aug. 15, 2023 at 12:39 AM CDT
|
Updated: Aug. 15, 2023 at 7:01 PM CDT
SHREVEPORT, La. (KSLA) — A double homicide at a Shreveport vape shop began as a robbery that ended in a shootout between at least one customer and the robbery suspects, police say.
Two of the robbery suspects — 19-year-old Anthony Lee and 18-year-old Martavious Henderson — were struck by gunfire and ultimately succumbed to their injuries.
Now detectives are sharing surveillance camera videos and photographs in hopes someone can help them identify the third robbery suspect as well as the two customers who were in the store at the time of the robbery.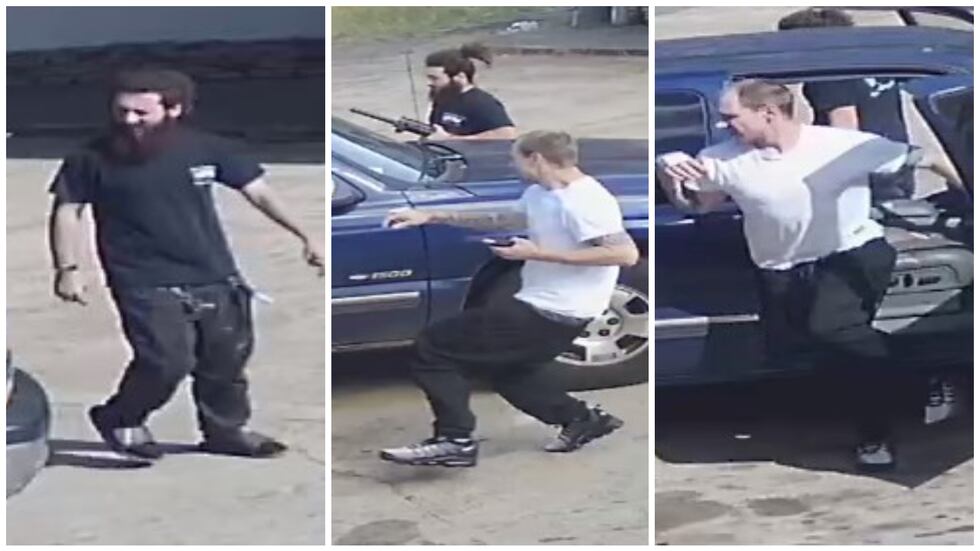 Lee, Henderson and another male were armed when they entered the business in the 1900 block of Centenary Boulevard about 4:55 p.m. Saturday (Aug. 12). At one point during the holdup, two of the three robbers jumped the counter and took a handgun and other items from the store clerk.
While this was going on, the two customers escaped the business and went to their vehicle, described as a blue Chevrolet 1500 extended cab pickup. There, they armed themselves then engaged the robbery suspects as the three left the business.
The third robbery suspect escaped on foot and has not been identified. He is described as a Black male who stands about 5′6″ to 5′8″ tall and who has a slender build. He was wearing gray shorts and a black hoodie.
People in Shreveport's Highland neighborhood are shaken up by the double homicide Saturday evening on Centenary Boulevard near Olive Street.
"I'm going to tell you, it was scary. It was very scary," one resident said.
Police said one of the slain men was found outside the shop while the other was inside.
"I'm going to be honest with you, I was taking my son to work. I was at the stop sign when it happened. When everything happened, yeah. We was in the car."
He said he didn't know if the incident occurred inside the store.
"It had to been because one in and one out. It had to been because the young man that was on the other side, it looked like he was running. But as he got closer to the end of the building, he got slower and slower. So I knew then he got shot. We heard gunshots and everything; but who did it, I don't, I can't tell you."
Police early on described both Lee and Henderson as suspects.
Neighbors said people in the community are upset.
"Maybe because they were children; I mean, that's the only way I can see it. But when you doing wrong. You can't say how it's going to come back on you. And it just so happened the day they did whatever they did, it came back on them the same day."
Even before police said so, neighbors also believed it could have been a robbery gone wrong.
"Whoever those lil kids were, they actually went up in there and tried to rob them. And you know people going to protect their goods. You know so, that's what I feel. I don't know if that happened, but that's what it seemed like."
Authorities urge anyone with any information about this crime to call Shreveport police detectives at (318) 673-7300 or (318) 673-6955.
Or contact Caddo-Shreveport Crime Stoppers by calling (318) at 673-7373, using the organization's website or using the P3 Tips app to provide information anonymously. Crime Stoppers will pay up to $2,000 for information that leads to the arrest of those responsible for this crime.
Copyright 2023 KSLA. All rights reserved.