WILDFIRE UPDATES: Mandatory evacuation issued for Singer area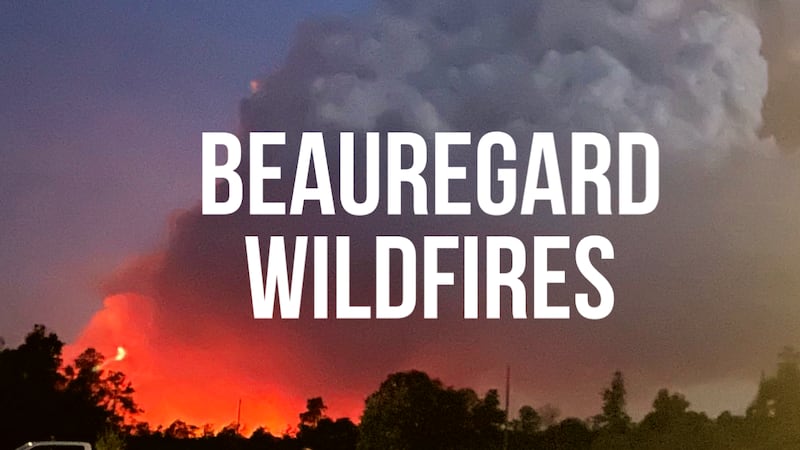 Published: Aug. 23, 2023 at 5:39 AM CDT
|
Updated: Aug. 23, 2023 at 9:13 PM CDT
SINGER, La. (KPLC) - As the wildfire near Singer and Merryville continues to burn, a mandatory evacuation notice has been issued for residents in the Singer area.
The Beauregard Parish Sheriff's Office has issued a mandatory evacuation for all residents in the Singer area and north, including the following:
Fred Cloessner Road

Bob Cooley Road

Ira Cooley Road

John Bowman Road

North end of Newlin Cemetery Road

Mitchell Loop

Kenneth Dunn Road

Robert Slaydon Road.
Fire conditions have intensified and are now threatening homes in this area. BPSO asks residents to cooperate with the deputies who will be coming door to door to help.
Earlier Wednesday evening Sheriff Mark Herford said a hot spot jumped up near the highway, next to the National Weather Service's incident command post. Out of an abundance of caution, the command post in Singer was evacuated.
The voluntary and mandatory evacuation orders for the residents of Merryville, residents along La. 110 West between Merryville and Singer and the residents on Neale Oilfield Road east of Merryville have been lifted.
It's the largest fire in the state amid the perfect storm of hot and dry conditions in this prolonged drought.
"The conditions that we are in is the perfect condition for a great fire and we have had a great fire," Beauregard Fire District 1 Chief Jay Williams said.
Williams tells KPLC the initial call for this fire came in Monday night and it was contained, but on Tuesday it started to spread.
"It's taken 10,000 roughly acres," he said. "We don't know because it's just so widespread."
Multiple fire departments from across southwest Louisiana responded, but outside help is still needed.
"As far as tackling it, we're going to continue monitoring and working with each and every agency that's here on the ground," Scott Greenmum with Beauregard OEP said.
Army National Guard Black Hawk helicopters are carrying 300 to 500 gallons of water from nearby ponds to assist with fighting the fire.
In addition, some fixed-winged aircraft from Texas and Oklahoma are flying in to drop fire-retardant.
"They will drop their loads 30 minutes apart and as soon as they drop, they turn around and reload and fly back here," Beauregard Sheriff Mark Herford said.
Officials are pleading once again that residents do their part now in preventing fires, seeing how quickly a wildfire like this can spread.
"These firemen are working themselves past the point of exhaustion and it's not right for them to have to get out here every single day and deal with this," Herford said. "So, I'm just going to caution all residents now is not the time to be burning."
The National Weather Service said the air attack helped, getting the fire 60 percent contained.
Evacuations
The Beauregard Parish Sheriff's Office has issued a mandatory evacuation for all residents in the Singer area and north to include Fred Cloessner Road, Bob Cooley Road, Ira Cooley Road, John Bowman Road and north end of Newlin Cemetery Road.
Acadian Ambulance evacuated residents from the DeRidder Retirement Home to areas in north Louisiana.
For anyone who needs to evacuate but does not have transportation, there is a staging area at the Merryville Town Hall. From there, residents will be taken to DeRidder Junior High School.
School
Both Singer High School and Merryville High School have announced that they will be closed due to the wildfires today. Tomorrow, August 24, both schools will have a virtual school day. The MHS football jamboree has also been relocated to East Beauregard High School at 6:30 p.m.
Highway Shutdown
Highway 110 in the Merryville area has been shut down
Officials are extending that notice to all residents from the intersection of Highway 28 and Highway 110 north to Otto Franklin Road and all of Neale Field Road.
Sheriff Herford says there is a staging area at the Merryville
Water Shortage
As first responders work around the clock to put out a wildfire in the Singer area the Water Works District 3 is reporting that a large portion of their water is going towards fighting the fires. Firefighters are also supplementing this by pulling water out of ponds.
Officials are asking residents to hold back on watering lawns during this time. Residents can expect low water pressure in certain areas across the parish in the meantime but there is enough water for regular use such as washing dishes, showers, etc.
Power Outage
Additionally, Beauregard Electric has interrupted power along Highway 110 from Singer and heading west to Merryville. As a safety precaution, residents are being asked to stay away from utility lines as crews continue to monitor the situation.
Cooling Center
The Beauregard Parish Library West Central Branch in Singer will be open as a cooling center until 6 p.m.
Donations
The Houston River Fire Department says they are overwhelmed and incredibly thankful for the community's support in donating supplies for the firefighters in the Singer staging area.
Chief Dean Lappe says they have all the supplies they'll need for now but will let people know if they start to get low again.
Animal Evacuations
The Beauregard Covered Arena is also taking in animals that need to be evacuated from the area. Gates will be open and staff will be on-site to assist. You can call 337-375-6315 for more information.
The arena is located at 5515 Highway 190 in DeRidder.
Vernon Parish Sheriff's Office expressed to Singer and Merryville residents that if livestock wanders onto their property and they have the ability to safely keep them, they ask that they please do so and notify the sheriff's office. Officials said it is likely they had to be "turned out" because of the fire.
Copyright 2023 KPLC. All rights reserved.