Bruce: Triple digits through early next week; mid week a Gulf tropical system may bring higher rain chances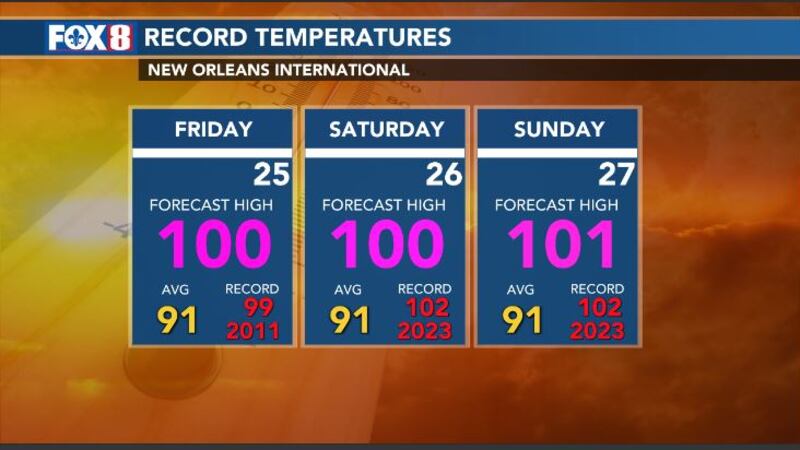 Published: Aug. 24, 2023 at 3:01 PM CDT
NEW ORLEANS (WVUE) - I see no big changes to drop triple digit temps into the weekend. Heat precautions are needed as well as no outdoor burning. Keep up with the full heat precautions as the ridge of high pressure holds on through the weekend.
There are some indications we see a shift in the high to the west towards the start of next week and a front head in our direction from the northeast. We will not be looking at cold temperatures so to speak, but the front will provide a focus for showers and storms that would help take the edge off of the heat. In addition as we keep watch on a tropical wave expected to drift north across Central America into the Caribbean that front could take over as our protection against a possible developing tropical system. Currently the National Hurricane Center highlights the southeast Gulf for development as the wave heads north. If the steering currents continue to line up even if we do see a storm develop it would head towards Florida. We will be monitoring this closely and let you know as updates come more into focus.
See a spelling or grammar error in our story? Click Here to report it. Please include the headline.
Subscribe to the Fox 8 YouTube channel.
Copyright 2023 WVUE. All rights reserved.