St. Bernard Parish neighbors stock up on water ahead of the saltwater intrusion
Published: Sep. 20, 2023 at 4:25 PM CDT
ARABI (WVUE) - The saltwater wedge in the Mississippi River quickly moves through Plaquemines Parish and state emergency officials believe it will reach St. Bernard Parish in the first week of October.
It's a result of historically low rain in the Mississippi River Basin. With insufficient water to push into the Gulf of Mexico, the heavier saltwater is pushing upriver, threatening the parishes with drinking water intakes in the Mississippi.
+ Click here to see where the saltwater wedge is now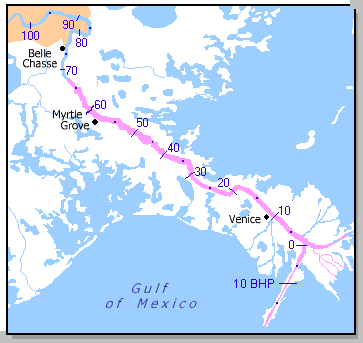 MORE: Gulf saltwater intrusion could threaten Belle Chase's water supply by early October
"I just want to have something good to drink you know," Jules Turgeau said as he was loading up his truck with cases of bottled water at the Breaux Mart parking lot.
Like many throughout St. Bernard Parish, he spent his Wednesday morning stocking up on as much fresh water as possible.
"The salt water is coming down the river. It will be here in the beginning of next month," Turgeau said.
RELATED STORIES
New pump easing saltwater concerns in Plaquemines Parish
Schools in southern end of Plaquemines Parish dealing with water issues
Corps of Engineers planning second saltwater sill in less than a year in Plaquemines Parish
Plaquemines Parish fights second saltwater threat as river flow declines; water supply at risk
South Plaquemines Parish facing drinking water contamination concerns as saltwater infiltrates
St. Bernard Parish prepares for worst impacts of saltwater wedge
Breaux Mart and other stores have been trying to keep up with demand. But some business owners like Matthew Woodward say water jugs are becoming harder to find.
"Water is light in a lot of places here," Woodward said.
He owns The Coffee House and drove to Slidell on Wednesday morning to load up his trailer with jugs. He says he would rather be safe than sorry if the saltwater intrusion wreaks havoc on his pipes, jeopardizing his business.
"At a certain point you can't drink it. Once it gets over a certain amount of milligrams per liter its undrinkable," he said. "We're trying as much as we can to make sure we can operate and serve our customers, to keep our staff coming to work every day."
St. Bernard Parish is planning several ways to keep the faucets running:
Having the Army Corps of Engineers barge in 1 million gallons of fresh water from upriver to mix with the parish water and dilute the salt level;

Filtering out the salt through a machine in a process called reverse osmosis;

Pumping in millions of gallons of fresh water from Orleans Parish through a water line near Jackson Barracks
It's an effort to prevent too much salt water from being consumed by people, which Chief of Community Health at LSU Health Dr. Benjamin Springgate says is crucial.
"If we drink a gallon of salt water, we would put out more than a gallon of liquid to get that out of our bodies. That would be very harmful to us. We would get dehydrated, ultimately suffering health consequences and die," he said.
In addition to health concerns, many people worry about what the saltwater would do to pipes, water heaters and other equipment. Woodward says buying up fresh water is a way of not taking any chances with his drink machines.
"Salt is extremely corrosive to anything metal," he said. "It's corrosive and can destroy everything."
See a spelling or grammar error in our story? Click Here to report it. Please include the headline.
Subscribe to the Fox 8 YouTube channel.
Copyright 2023 WVUE. All rights reserved.