Saltwater wedge travels almost 15 miles upriver in one week
Published: Sep. 21, 2023 at 4:33 PM CDT
BURAS (WVUE) - According to the U.S. Army Corps of Engineers' latest reading, the saltwater wedge in the Mississippi River is about 10 miles away from the Belle Chasse and Braithwaithe water plants. It has traveled almost 15 miles upriver in seven days.
The wedge results from historically low rainwater in the Mississippi River basin. Meaning there has not been enough fresh water flowing downriver to push back salty water from the Gulf of Mexico.
+ Click here to see where the saltwater wedge is now
The issue has threatened communities in South Plaquemines since June, with many frustrated neighbors saying they've had enough.
"We are ready to move. We are ready to get out of here. My wife is house shopping today. Everybody wants out," Byron Marinovich, owner of seafood restaurant Black Velvet, said. "You can't live like this. We have enough issues with internet, mail, and other things and now they can't keep up with basic amenities like water?"
Marinovich says the saltwater intrusion has been a daily routine for South Plaquemines, causing issues with cooking, bathing, and cleaning among his staff and regular customers.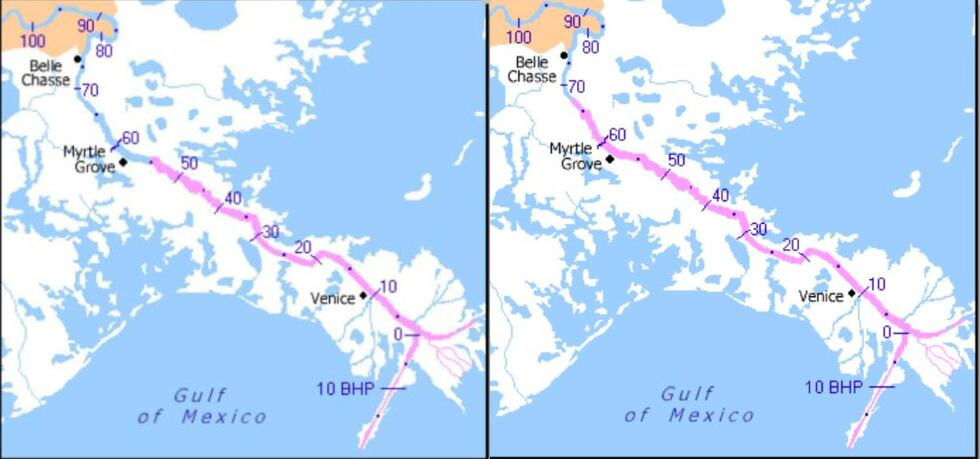 "We had someone complain about skin rashes," he said. "People coming in with their hair sticking up because of the salt water and having to bathe in it. It's really bad."
Marinovich says problems got progressively worse over the Summer. He can no longer use his ice machine soda machine and has to buy all his drinks by the bottle.
CONTINUING COVERAGE
Gulf saltwater intrusion could threaten Belle Chase's water supply by early October
South Plaquemines Parish facing drinking water contamination concerns as saltwater infiltrates
St. Bernard Parish prepares for worst impacts of saltwater wedge
New pump easing saltwater concerns in Plaquemines Parish
Schools in southern end of Plaquemines Parish dealing with water issues
Corps of Engineers planning second saltwater sill in less than a year in Plaquemines Parish
Plaquemines Parish fights second saltwater threat as river flow declines; water supply at risk
"We buy about 150 pounds of ice a day. It's really been a pain trying to make coffee, lemonade, tea," he said.
Just upriver in Alliance, produce stands like Becnel's say they are bracing for a matter of days when the water they use becomes salty. Right now, they rely on a water pipe from Belle Chasse's intake in the Mississippi River. State emergency officials say water in that area could be contaminated by the first week of October.
"Most of the time we have low river we run into those problems. It's nothing new," Vince Frelich said.
Frelich is a lifelong resident of Plaquemines Parish and says he has only been drinking bottled water to be cautious. As far as what state and local officials could do to fix the issues with the Mississippi River levels, he doesn't have much hope.
"There's not really a whole lot you can change. It's going to happen with higher tides. Especially during the storm season, your tides will run a little higher," Frelich said.
Governor John Bel Edwards is expected to address the saltwater wedge in a press conference on Friday at 3 p.m.
See a spelling or grammar error in our story? Click Here to report it. Please include the headline.
Subscribe to the Fox 8 YouTube channel.
Copyright 2023 WVUE. All rights reserved.