Tulane routs Nicholls, 36-7; Pratt breaks TD record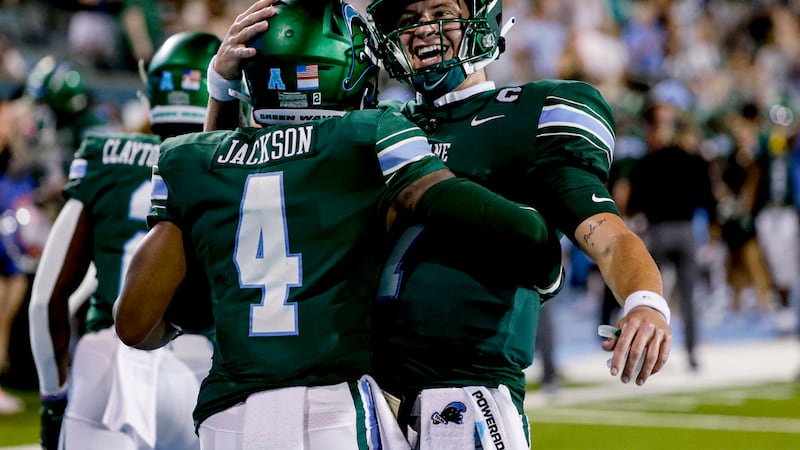 Published: Sep. 24, 2023 at 2:12 PM CDT
NEW ORLEANS (WVUE) - NEW ORLEANS (AP) — Michael Pratt threw for 190 yards and two touchdowns, the Tulane defense came up with four interceptions, and the Green Wave defeated Nicholls 36-7 on Saturday night.
Pratt set the Tulane record for career touchdown passes with a 40-yard strike to Lawrence Keys III in the first quarter. It was Pratt's 73rd TD pass, breaking a tie with Patrick Ramsey.
Jesus Machado had 10 total tackles and an interception for Tulane. Shai'Keem Laister returned a shanked punt 27 yards for a touchdown, jump-starting Tulane's 17-0 first quarter and the Green Wave went on to lead 27-7 at the half.
Pratt's 1-yard run in the third quarter was the only touchdown of the second half.
Pat McQuaide threw for 273 yards with a touchdown for Nicholls (0-3). But his four interceptions kept the offense out of the end zone with the exception of a 13-yard TD pass to Neno Lemay in the second quarter.
Arnold Barnes III led Tulane with 71 yards rushing and Keys was the top receiver with 77 yards. Valentino Ambrosio kicked three field goals for Tulane (3-1).
See a spelling or grammar error in our story? Click Here to report it. Please include the headline.
Subscribe to the Fox 8 YouTube channel.
Copyright 2023 WVUE. All rights reserved.