Dredge races to raise sill to shield against saltwater intrusion
Published: Sep. 26, 2023 at 5:32 PM CDT
ALLIANCE, La. (WVUE) - The U.S. Army Corps of Engineers is making strides in fortifying Louisiana's defenses against encroaching salt water, despite encountering obstacles such as tree stumps and stray anchors hidden in the murky Mississippi River. The effort to raise the underwater sill in Alliance, the first line of defense against the advancing saltwater wedge, is currently on schedule.
This multi-tiered project aims to mitigate the impact of the saltwater threat, which is steadily moving up the river at approximately one mile per day.
Officials invited members of the media on a boat ride from Alliance, about a dozen miles south of Belle Chasse, to witness the efforts firsthand in safeguarding the drinking water supplies of Louisiana's largest metropolitan area.
The massive 30-foot cutter dredge, known as the J.S. Chatry, is excavating thousands of cubic feet per second of river sediment. This sediment is then directed through pipelines to an existing sill constructed just over a month ago, now being raised to a depth of 55 feet. The new higher sill will provide a 600-foot channel for ships, crucial for maintaining deep navigation in the area.
"This is a deep navigation project. We want it open. It's critical," said Heath Jones, the Chief Operating Engineer for the Corps.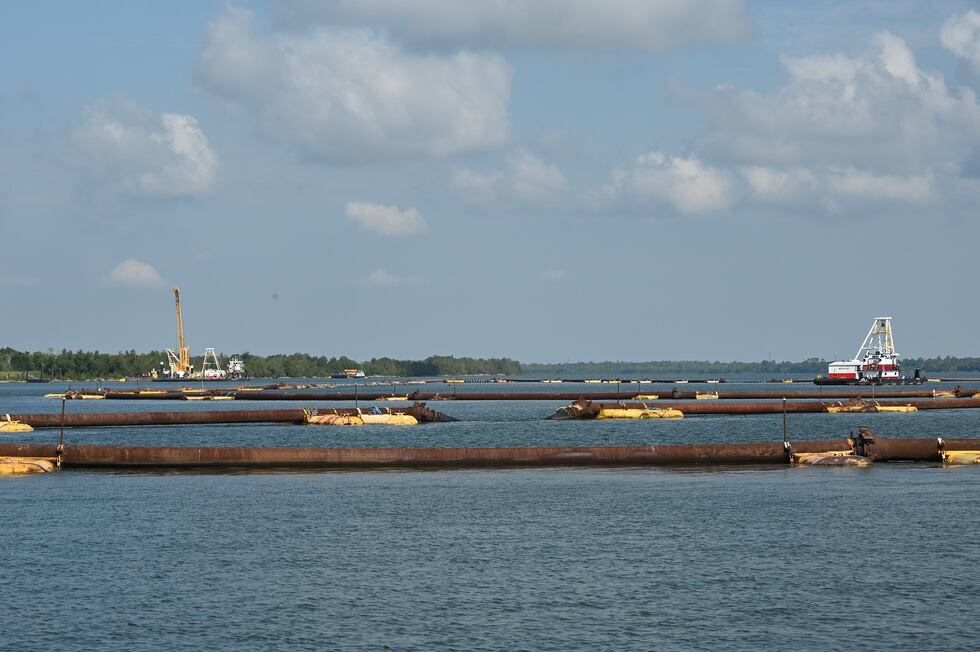 The J.S. Chatry, positioned in the middle of the river, can be strategically moved to accommodate incoming river traffic.
The heightened sill is expected to delay the progress of the saltwater wedge upriver by approximately two weeks, offering valuable time for local officials to address the emergency.
"I think it will be enough to keep salt levels in drinking water under the 250 parts per million threshold for the event," said St. Bernard Parish President Guy McInnis.
SALTWATER INTRUSION
St. Bernard approves emergency ordinance to use hurricane funds for saltwater threat
Technician warns of 'catastrophic failure' if household appliances are exposed to salt water
As efforts continue to impede saltwater wedge, governor seeks federal emergency declaration
TIMELINE: Saltwater wedge could reach New Orleans by late October
To further bolster defenses, St. Bernard is working to secure a barge capable of holding one million gallons of fresh water, positioned near the Chalmette water intake. The saltwater wedge is projected to reach that point in about two weeks.
Additionally, St. Bernard Parish is procuring two water desalination units, mirroring similar efforts in Plaquemines Parish, where salinity levels downstream are already significantly elevated.
See a spelling or grammar error in our story? Click Here to report it. Please include the headline.
Subscribe to the Fox 8 YouTube channel.
Copyright 2023 WVUE. All rights reserved.