Tropical Storm Philippe battling shear, next system is likely to form this week
Published: Sep. 26, 2023 at 4:06 PM CDT
NEW ORLEANS (WVUE) - Hurricane season continues with Tropical Storm Philippe in the central Atlantic and Invest 91L trailing close behind.
Philippe is battling wind shear over the Atlantic as it heads northwest slowly.
Wind shear is when the winds in different levels of the atmosphere are moving in different directions or at different speeds. This can displace the thunderstorm activity from the center of the storm and tear it apart.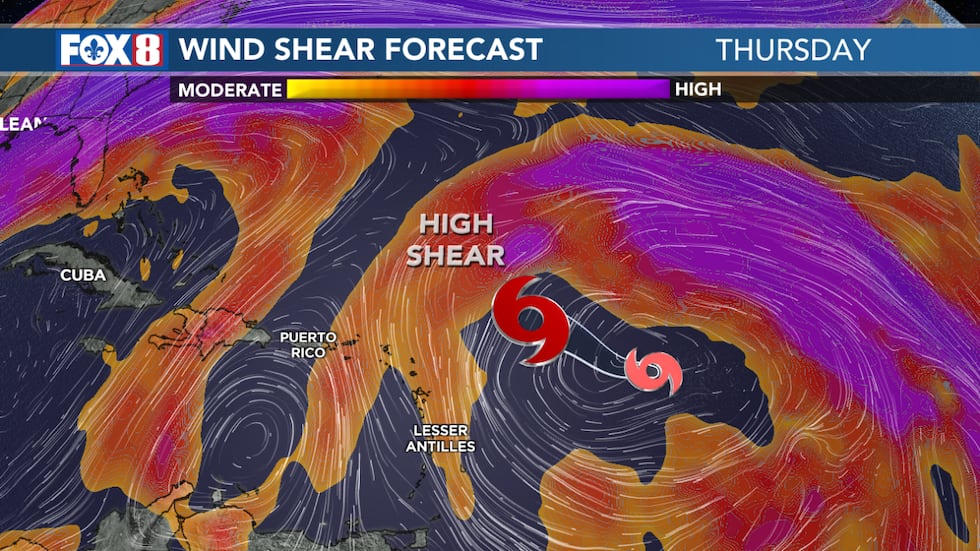 The tropical storm is forecast to move to the northwest and become a tropical depression as the environment is more unfavorable.
Model forecasts have some uncertainty by the weekend. Puerto Rico and the Dominican Republic are included in the latest cone from the National Hurricane Center. Philippe could bring gusty winds and heavy rainfall if it takes a more southerly track.
Other models have the system staying north of the Caribbean with fewer impacts to the islands. Regardless, Philippe is expected to be much weaker by this weekend as it battles wind shear and dry air.
Following behind Philippe is Invest 91L.
The low-pressure system is located in the central Atlantic and is becoming more organized.
It is expected to become a tropical depression by the end of the week as it continues west into a conducive environment. If the system is upgraded to a tropical storm, the next name would be Rita.
This would be the eighteenth named system of the 2023 Atlantic hurricane season. The average season has fourteen named storms. Tropical activity typically peaks between mid-September and mid-October.
Computer models are forecasting Invest-91L to make a track westward north of the Caribbean, like many of the systems this summer. This is due to a weak area of high pressure over the mid and eastern Atlantic that is directing tropical features northward.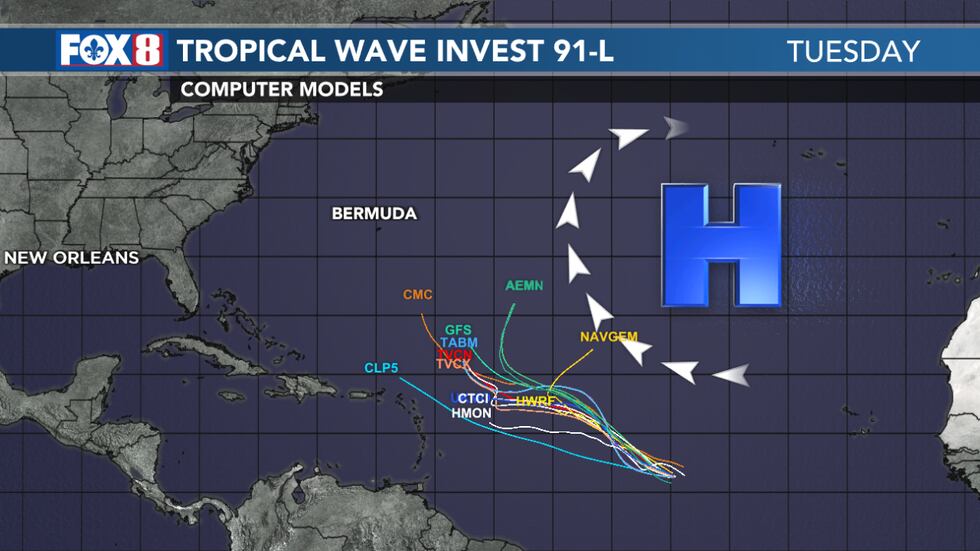 See a spelling or grammar error in our story? Click Here to report it. Please include the headline.
Subscribe to the Fox 8 YouTube channel.
Copyright 2023 WVUE. All rights reserved.