In St. Bernard and Plaquemines, work against the saltwater intrusion continues
Published: Oct. 6, 2023 at 3:40 PM CDT
ST. BERNARD PARISH, La. (WVUE) - While neighboring parishes received encouraging news of delays in the saltwater wedge's impact on drinking water supplies, St. Bernard and Plaquemines Parishes remain resolute in their mitigation efforts.
The recently released timeline, based on National Weather Service forecasting by the Army Corps of Engineers, has brought some relief to Jefferson and Orleans Parishes, which are not expected to exceed the EPA's recommended chloride levels at their water intakes, indicating minimal impact on these communities downstream.
More: Significant adjustment in saltwater wedge timeline delays some impacts by nearly a month, if at all
For St. Bernard Parish, the timeline now projects the saltwater wedge's arrival by Oct. 28, a delay of nine days.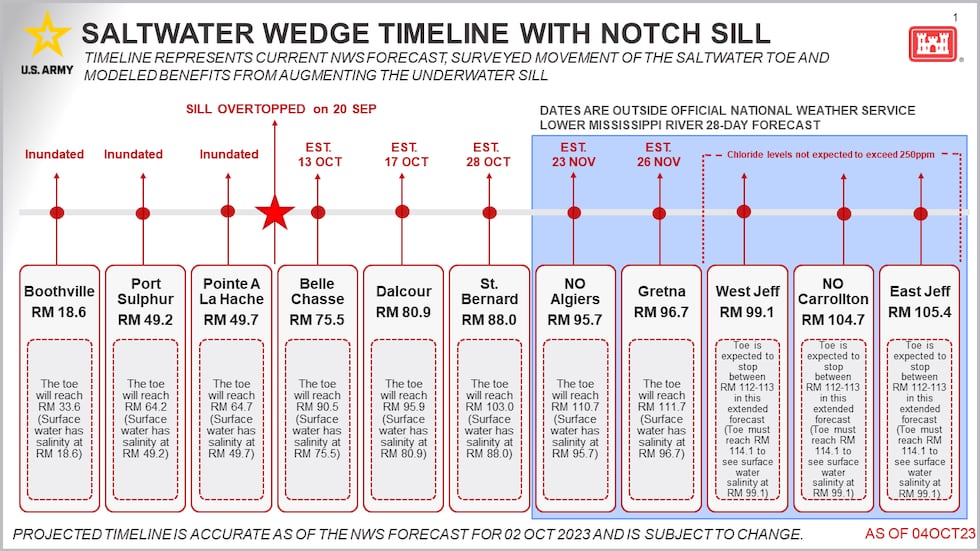 Parish President Guy McInnis is confident in their preparedness. Reverse osmosis machines and other equipment are in place, daily water tests are ongoing, and there is an ample supply of bottled water.
Further downstream, Belle Chasse is anticipating the arrival of reverse osmosis machines.
First barge of fresh water arrives in Plaquemines Parish
Jefferson Parish begins laying freshwater pipeline on West Bank
Ahead of salt water arrival, Gretna requests barges and bottles water
'Like Christmas;' First salt extraction machine arrives in Plaquemines Parish
Plaquemines Parish has been grappling with the saltwater wedge for months. Reverse osmosis machines arrived Friday. Parish President Keith Hinkley says this equipment will help keep the water safe.
"We have to have this potable, drinkable water. We cannot sustain life without water. We'll have to deal with those challenges right there," Hinkley said.
The effects of the saltwater wedge are anticipated to persist for several months, with the toe of the wedge expected to continue creeping upriver until at least late November. The timeline is approximate, however, as the NWS does not forecast further than 28 days.
See a spelling or grammar error in our story? Click Here to report it. Please include the headline.
Subscribe to the Fox 8 YouTube channel.
Copyright 2023 WVUE. All rights reserved.