Completion of saltwater sill work extends relief for Belle Chasse, St. Bernard
Published: Oct. 12, 2023 at 10:32 AM CDT
ALLIANCE, La. (WVUE) - The Army Corps of Engineers completed work to augment an underwater sill in the Mississippi River on Thursday (Oct. 12), in an effort to delay the encroaching saltwater intrusion.
The construction work has elevated the sill from an elevation of -55 to -30 feet from the river surface while retaining a channel at -55 for deep draft navigation on the Mississippi River.
The updated forecast further delays the salt water's impact on drinking water supplies in Belle Chasse, Dalcour, and St. Bernard.
Chloride levels at water intakes in Algiers, Gretna, and farther upriver are not expected to exceed the FDA's standard of 250 ppm.
| Water Intake | Original Forecast Date | First Revised Forecast Date | Latest Updated Forecast Date |
| --- | --- | --- | --- |
| Boothville | No change | No change | No change |
| Port Sulphur | No change | No change | No change |
| Pointe A La Hache | No change | No change | No change |
| Belle Chasse | Oct. 13 | Oct. 13 | Oct. 27 |
| Dalcour | Oct. 17 | Oct. 17 | Nov. 1 |
| St. Bernard | Oct. 28 | Oct. 28 | Nov. 8 |
| New Orleans Algiers | Nov. 23 | Nov. 23 | Not anticipated |
| Gretna | Nov. 26 | Nov. 26 | Not anticipated |
| West Jefferson | No change | No change | No change |
| New Orleans Carrollton | No change | No change | No change |
| East Jefferson | No change | No change | No change |
"The positive news from the corps is due to a larger surge of water coming down the Red River after some heavy rains in Texas and Oklahoma several days ago. This, in combination with fronts along the Gulf Coast keeping persistent northerly winds over us, helps the fight of the salt water wedge," Meteorologist Zack Fradella says. "Now in a month's time will we still have the Red River adding that extra water? One thing is for sure, the Mississippi River basin up north continues to be at record low levels meaning watching the river will continue through November and maybe even December."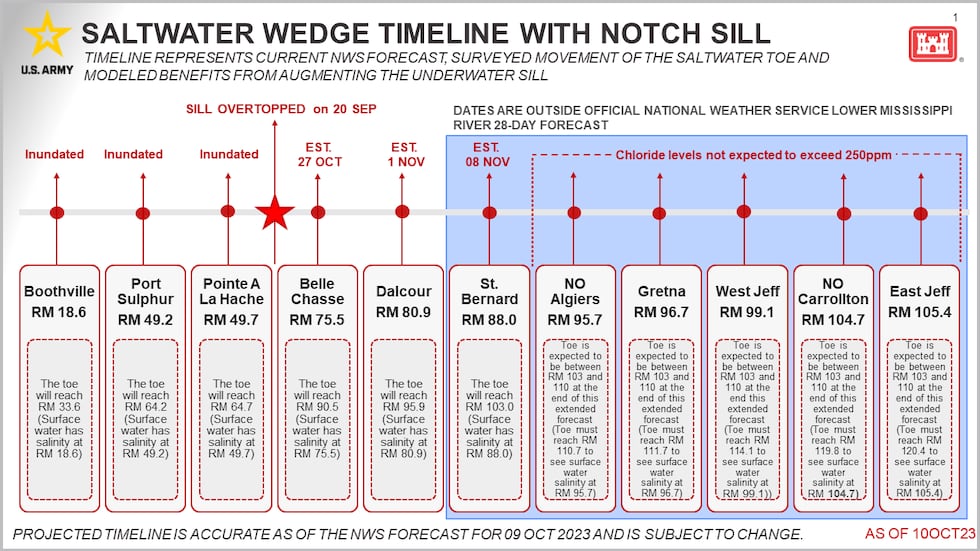 SALTWATER INTRUSION
In St. Bernard and Plaquemines, work against the saltwater intrusion continues
Saltwater wedge retreats slightly, Orleans leaders still preparing for impacts
Jefferson Parish begins laying freshwater pipeline on West Bank
An increase in rainfall in the Red River Basin has resulted in higher flows on the Red River.
The combination of factors has led to a regression of the saltwater wedge upriver. As of Oct. 9, the toe of the saltwater wedge was measured at river mile 63.9, approximately at the location of the sill.
Water treatment facilities in Plaquemines Parish continue to be impacted by saltwater intrusion. Treatment facilities in Port Sulphur and Pointe A La Hache are grappling with the effects.
The Corps has been transporting water to the impacted facilities to blend with the salty intake water, reducing chloride levels to treatable levels.
As of Oct. 12, the Corps says they have delivered more than nine million gallons of water to Plaquemines Parish and has mobilized reverse osmosis units to support processing at the impacted facilities.
See a spelling or grammar error in our story? Click Here to report it. Please include the headline.
Subscribe to the Fox 8 YouTube channel.
Copyright 2023 WVUE. All rights reserved.