Hurricane Tammy brings gusty winds and rain to the Leeward Islands
Published: Oct. 21, 2023 at 10:14 AM CDT
NEW ORLEANS (WVUE) - Tammy continues to bring flooding rain and gusty winds to the Leeward Islands on Saturday.
After strengthening to a hurricane on Friday, Tammy has continued to bring hurricane conditions to parts of the Lesser Antilles after making a northwest turn.
The storm is passing east of Guadeloupe with nearly 85 miles per hour winds moving northwest at 8 miles per hour according to the latest National Hurricane Center advisory.
Hurricane warnings are in effect for much of the Leeward Islands. The British Virgin Islands are also included in a tropical storm watch. Even parts of eastern Puerto Rico could see gusty winds and heavy rain.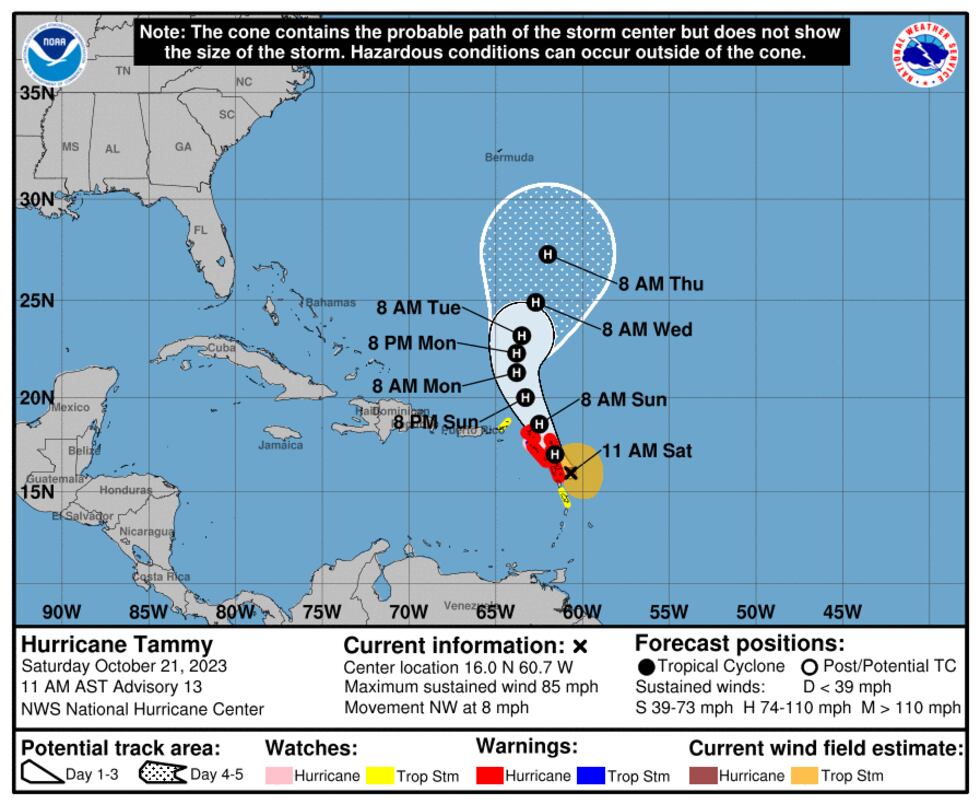 Sunday Tammy is expected to make a northward turn as it continues to impact parts of the Leeward Islands. An area of high pressure over the central Atlantic along with a low-pressure system progressing eastward across the US and over the Atlantic will direct the system northward.
Tammy is expected to move over the open waters of the Atlantic before weakening later this week. The storm is not a threat to the east coast of the US or the Gulf Coast at this time.
See a spelling or grammar error in our story? Click Here to report it. Please include the headline.
Subscribe to the Fox 8 YouTube channel.
Copyright 2023 WVUE. All rights reserved.