Monitoring two waves for tropical development in the Atlantic
Published: Nov. 15, 2023 at 11:23 AM CST
NEW ORLEANS (WVUE) - There are two areas of interest for possible development over the next week in the Atlantic.
The first wave is located near eastern Florida with a low chance for development into a non-tropical low. This system is forecast to form from the same upper-level low that created the surface Gulf low that has been bringing rain to southeastern Louisiana and southern Mississippi this week.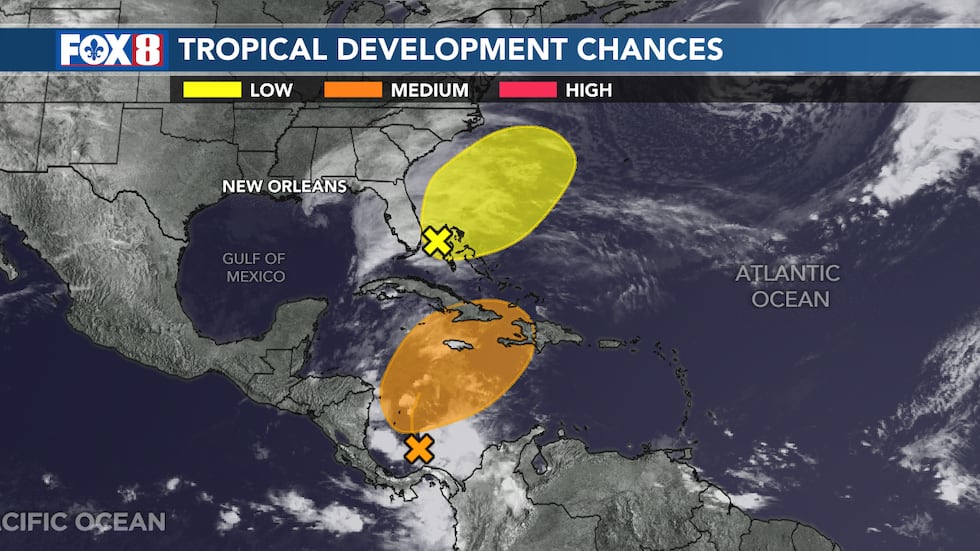 As the low progresses east, another surface low could form near the east coast of Florida and make its way up the US East Coast by the weekend. This system would likely be a Nor'easter as it combines with a cold front progressing across the eastern US behind it.
The second wave is located in the Caribbean near the bottom of Central America. This system is expected to lift northward as it is pulled by the same upper-level low.
The environmental conditions are somewhat favorable for the formation of a tropical system as it moves over the Caribbean Sea. This would bring heavy rain and gusty winds to the central Caribbean islands and the Greater Antilles by the weekend.
The next two names on the 2023 Atlantic tropical list are Vince and Whitney.
See a spelling or grammar error in our story? Click Here to report it. Please include the headline.
Subscribe to the Fox 8 YouTube channel.
Copyright 2023 WVUE. All rights reserved.