Clouds stick around for Friday but the sun is back for the weekend
Warmer temps and sunshine are on the way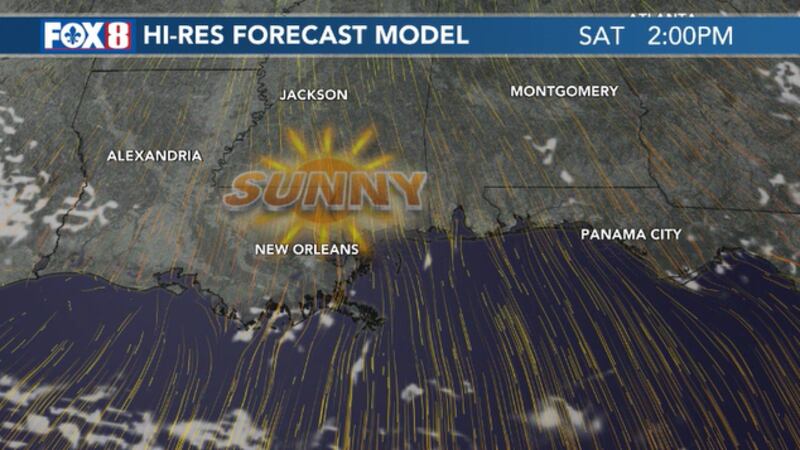 Published: Nov. 16, 2023 at 3:33 PM CST
NEW ORLEANS (WVUE) - After a gloomy week, we're all due for a dose of sunshine.
We have one more cloudy to overcast day on Friday with highs returning to the 70s. A weak front will drop in from the north late in the day. That will help to sweep out the clouds and moisture in the air leading to a sunnier weekend.
Saturday will feel noticeably different as clouds will clear through the morning. Dry air continues to funnel in which will promote sunshine. This will allow our highs to heat to the mid to upper 70s - which would be above average for this time of year as average is around 70 degrees. The dry air will allow for colder overnight lows Saturday night as many will be waking up early on Sunday to the 40s on the North Shore and 50s in the south.
We'll keep the warmth into Sunday and Monday with our next potent cold front moving through late Monday. This is a First Alert for the potential for severe storms. As of now, the timing is tough to nail down but late Monday into the evening, we could see strong to severe storms. The Storm Prediction Center has already highlighted the North Shore as an area to watch.
Behind the cold front, we'll see a chilly Thanksgiving as highs fall dramatically to the upper 50s to lower 60s.
See a spelling or grammar error in our story? Click Here to report it. Please include the headline.
Subscribe to the Fox 8 YouTube channel.
Copyright 2023 WVUE. All rights reserved.