Report says "Gwen's Law" needs to be used more in New Orleans as grandmother mourns loss of granddaughter to alleged domestic violence
Johnshane Powell, 33, was shot approximately 25 times in the 7th Ward in July.
Published: Nov. 16, 2023 at 10:47 PM CST
NEW ORLEANS (WVUE) - A grandmother is mourning the loss of her grandchild more than four months later and is expressing fury toward the city of New Orleans as a new report highlights the varying degrees of application of "Gwen's Law" in Orleans and Jefferson Parishes.
A new report from the city's Health Department details what Gwen's Law is and how often it is used in criminal court in both Orleans and Jefferson.
Gwen's Law, passed in 2017, is meant to help domestic abuse survivors. The law allows for either the district attorney in a parish or the court itself to request a bail hearing before a standard first appearance bail hearing.
A Gwen's Law hearing allows a judge or magistrate to review the evidence and determine if the defendant should not be given bail. It also allows the court to hold a defendant without bail for up to five days.
RELATED STORIES
Woman tried to contact police about her boyfriend twice before he allegedly killed her, officials say
Women are more increasingly becoming victims of gun violence in New Orleans
Former Orleans Parish prosecutor jailed, accused of threatening girlfriend with gun
Defendants eligible for Gwen's Law hearings have to had been arrested for domestic abuse, violation of a protective order, stalking or threatening use of force on a victim or a victim's family member.
From December 23, 2022, to August 22, 2023, the Health Department said it monitored cases eligible for Gwen's Law application in both Orleans and Jefferson Parishes.
The report notes only 12.6 percent of cases in Orleans saw Gwen's Law being applied, while more than 97 percent of Gwen's Law-eligible cases in Jefferson Parish actually saw the application of the law.
"I know that it's going to be awhile. But I don't think I'll ever understand. It's senseless," said Sylvia Holmes, the grandmother of slain mother-of-two Johnshane Powell.
Powell was killed on July 3 after being shot approximately 25 times in the 7th Ward, according to court records.
MORE: Mother killed in New Orleans shooting was in the middle of domestic abuse case
She had reported her ex-boyfriend, 35-year-old Kelvin Atkins, for abuse twice prior to her death: on June 23 and on July 1.
"These kids, they'll never be the same," Holmes said. "We'll never be the same."
Atkins was already on probation at the time of the first report, when Powell called police to say Atkins had slapped her, stomped her and stolen her gun and cell phone.
The responding officer did not obtain an arrest warrant for Atkins because she did not have his correct date of birth and misspelled his name, but a "wanted bulletin" was issued.
A week passed, and Powell again called police on July 1st to report Atkins for abuse and theft of a firearm.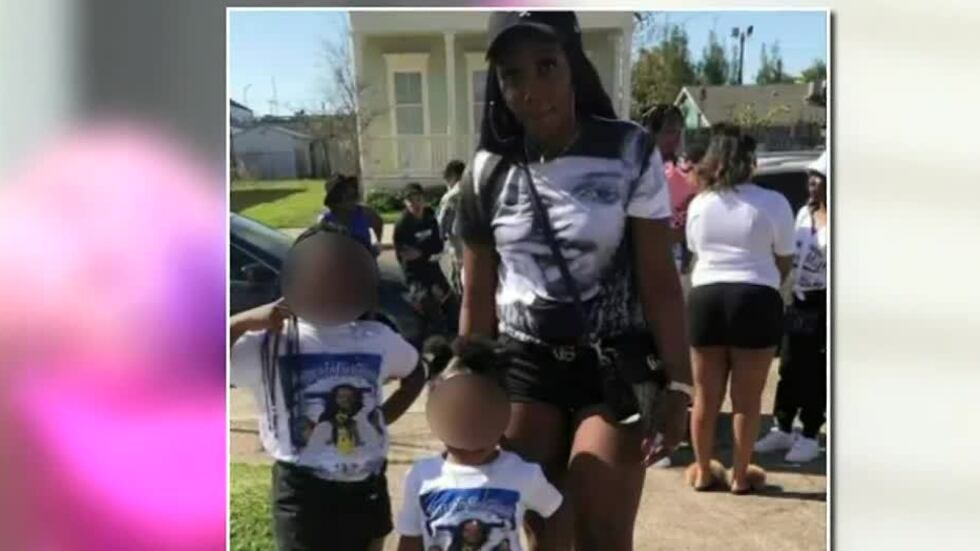 During that visit, officers realized Atkins was the perpetrator from the June 23rd police report and arrested him for theft of a firearm and domestic abuse battery.
But, despite being a parole violator, Atkins was back out on the street within 24 hours of his arrest. The magistrate commissioner (judges whose sole task is to handle first appearances and bond setting) signed a protective order for Powell.
"The police department, the sheriff's department, the DA and the judge. It was four different entities that should have said, 'Something is wrong here,'" Holmes said. "Had they not released that young man, my grandchild would still be alive today."
Holmes said she had never met Atkins and that Powell was actively trying to keep him out of her life, and the lives of her children.
"I don't know the young man so I can't speak on his mental state," she said. "But I can speak on my mental state, what he has done to me. He has taken something precious, and she did not deserve this."
Now four months without Powell, Holmes said she and her family have rallied to raise the two young girls she left behind.
"I admired her. The relationship she had with her kids," Holmes said. "Her girls' birthdays is this month. We take them to go and sit down and speak with psychologists once a week."
"We have to be there for these children. My last breath, I'll be there for these kids."
Since Gwen's Law hearings can be requested by either the district attorney's office or by the magistrate commissioners themselves, both the court bench and Orleans Parish District Attorney Jason Williams responded to the Health Department's report Thursday.
Orleans Criminal District Court issued a scathing rebuke of the report, saying it was "astonished" to see the report had been publicized without any communication between the city and court.
It also took issue with the report's comparison of Orleans to Jefferson Parishes, which it said was problematic because "in Jefferson Parish the commissioners make a probable cause determination and set Gwen's Law hearings outside of the presence of prosecutors and defense attorneys."
In the rebuttal, the court also slams Williams and his office, saying "it is our experience that the DA's Office routinely offers no additional information other than what was previously presented at the first appearance hearing. In fact, if the hearing was ordered by the Court, the DA's Office typically indicates that they do not have any additional information, nor do they have victim statements at the Gwen's Law hearing."
The court also notes that, from January 1, 2023, to June 5, 2023, Williams only accepted 25 percent of domestic violence cases (totaling 3,911).
"We hope to get Magistrate [Juana] Lombard to realize that just because Orleans Parish is a little bit unique, there's nothing wrong with doing it the way it happens in the rest of the state," Williams said Thursday.
Meanwhile, Sylvia Holmes said she'll keep taking care of her late granddaughter's children, along with other family members, until her last breath. She said the ball was dropped a number of times.
"The police department, the sheriff's department, the DA and the judge. It was four different entities that should have said, 'Something is wrong here,'" Holmes said.
See a spelling or grammar error in our story? Click Here to report it. Please include the headline.
Subscribe to the Fox 8 YouTube channel.
Copyright 2023 WVUE. All rights reserved.