Get ready for a warm and mostly sunny weekend
We're finally getting the sunshine we've all been craving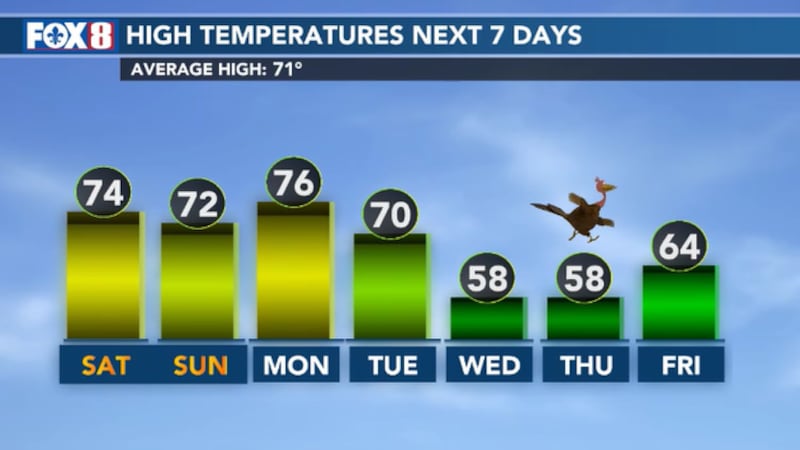 Published: Nov. 17, 2023 at 7:37 PM CST
NEW ORLEANS (WVUE) - After a gloomy and damp week, we're seeing a pattern shift that will promote warmth and sunshine as we head into a new weekend.
A weak front will drop in from the north and bring only a few sprinkles tonight with a slow clearing of clouds into Saturday morning. Any cloud cover that lingers will be high and thin on Saturday which will allow for lots of sunshine and warmth in the mid 70s.
Since dry air will funnel in from the north throughout Saturday, that will promote a steep drop in temps Saturday night. Lows will fall to the 40s on the North Shore and the 50s in the south by Sunday morning.
We'll continue to stay mostly sunny on Sunday with a few high clouds and highs in the lower to mid 70s.
First Alert Monday into Tuesday Morning
A return flow from the south on Monday will bring higher dew points and warmer temperatures. This will pave the way for a cold front to fire off strong to severe storms late Monday night into Tuesday morning.
A few of those storms could have strong and damaging wind. More updates to come as we get closer to Monday and more high-resolution data becomes available.
See a spelling or grammar error in our story? Click Here to report it. Please include the headline.
Subscribe to the Fox 8 YouTube channel.
Copyright 2023 WVUE. All rights reserved.