A warm Sunday and an even warmer Monday ahead of a severe storm threat
The first part of next week will be 'active' with strong to severe storms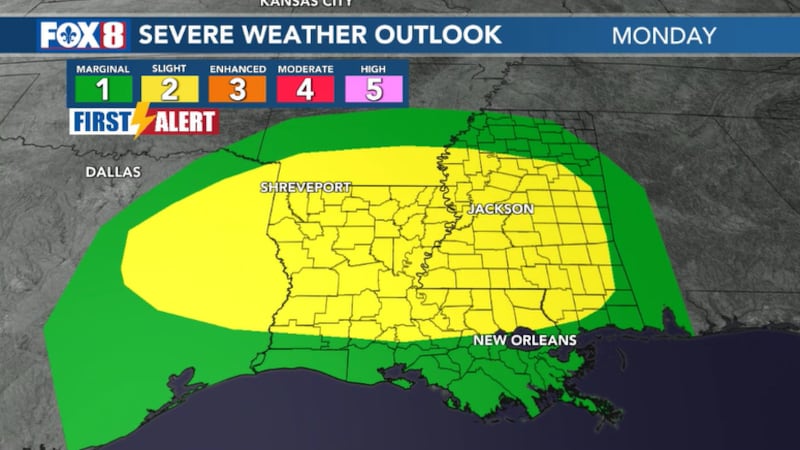 Published: Nov. 18, 2023 at 3:52 PM CST
NEW ORLEANS (WVUE) - We're in the middle of a quiet weather weekend but the roller coaster ride begins Monday.
Tonight will be chilly as the dry air will allow our lows to fall to the 40s in the north and the 50s in the south. Highs on Sunday will return to the lower 70s with a few passing clouds.
First Alert for Monday and Tuesday
A warm front will push in from the south on Monday. It will bring back higher dew points and allow our temperatures to climb to the upper 70s and lower 80s. A few storms could fire off with the afternoon heating, but the main threat will come from a cold front sweeping through Monday night into Tuesday morning.
A squall line of storms looks to move through and bring the possibility of damaging wind, hail, and a low-end tornado threat. The exact timing of the storms will be honed in a little more by Sunday as we get more high-resolution data but it's a good idea to go ahead and download the FOX 8 weather app and make sure you have your notifications turned on.
Once the line of storms moves out, temperatures will fall for Thanksgiving to the upper 50s.
See a spelling or grammar error in our story? Click Here to report it. Please include the headline.
Subscribe to the Fox 8 YouTube channel.
Copyright 2023 WVUE. All rights reserved.