FIRST ALERT: Strong to severe storms will move in Monday night
Temps will heat up on Monday ahead of strong storms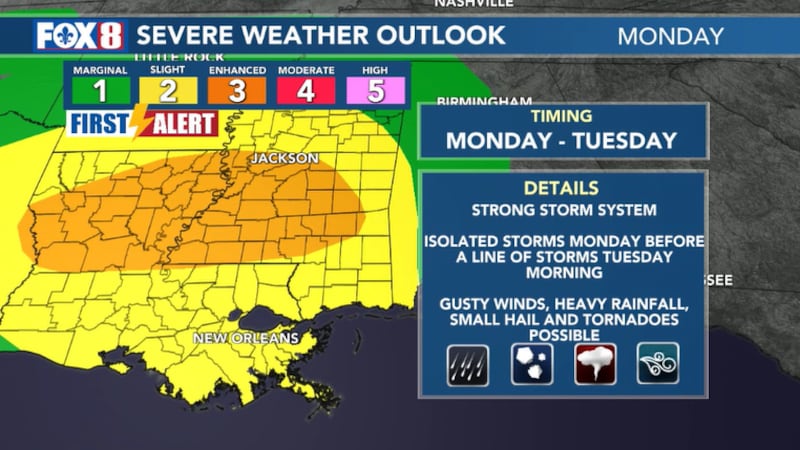 Published: Nov. 19, 2023 at 4:20 PM CST
NEW ORLEANS (WVUE) - After a tranquil weekend, Mother Nature will take us on a temperature roller coaster ride and with it comes a chance for strong to severe thunderstorms.
We've been pulling in dry air all weekend but a return flow from the Gulf starting tonight will bring higher dew points and heat into Monday. Highs will return to the upper 70s to lower 80s which will prime the atmosphere for potentially strong to severe storms later in the day. The highest confidence for the severe storms will be north of Lake Pontchartrain but it can't be ruled out in the south.
Storms will be isolated through the afternoon spurred by daytime heating and higher humidity. They'll become more scattered into the evening hours ahead of a cold front arriving overnight. That cold front will also carry with it a line of strong to severe storms that could linger into the early Tuesday morning hours close to the drive time.
The biggest threat will be strong wind gusts with a lower threat for tornadoes and hail. Heavy rainfall is also possible.
We'll cool for the middle of the week with highs only in the upper 50s for Wednesday and Thanksgiving. We will also see some moisture move in from the Gulf on Thanksgiving which could being scattered rain.
See a spelling or grammar error in our story? Click Here to report it. Please include the headline.
Subscribe to the Fox 8 YouTube channel.
Copyright 2023 WVUE. All rights reserved.