JP School Board votes to drop teacher union contracts
Published: Jun. 7, 2012 at 2:16 AM CDT
|
Updated: Jun. 20, 2012 at 10:24 PM CDT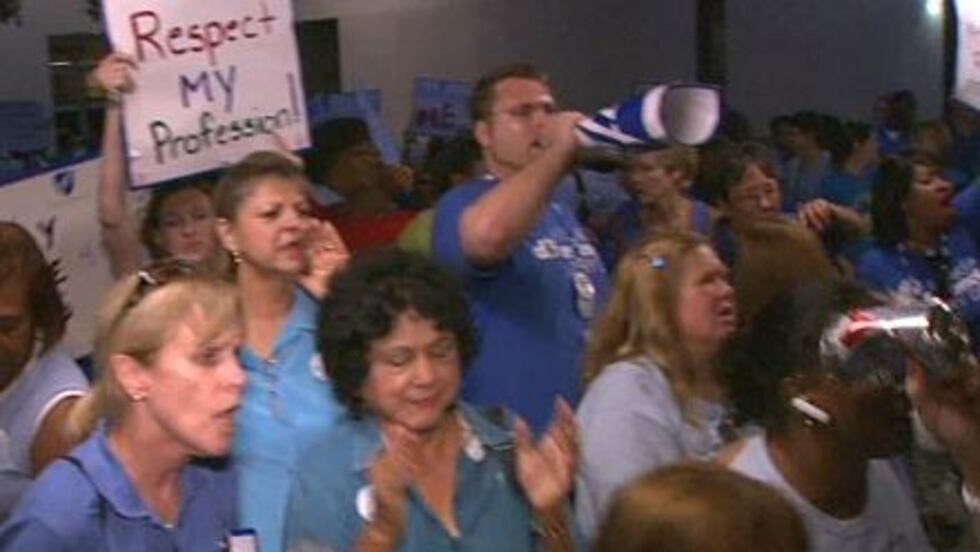 Jefferson Parish, La. - Teachers who showed up to the Jefferson Parish School Board meeting ended their night in tears.  As soon as the vote came down, there was an outburst in the courtyard.
Teachers chanted "shame on you" to the school board members.
The school board voted 5 to 3 to drop their teacher union contracts and start over with a negotiation process to come up with a new one.
The contracts expire June 30.
Board President Mark Jacobs proposed dropping the contracts because he said there are new requirements under state law that do not exist in the current contracts.
Teachers say, without a contract, there's uncertainty now about their jobs, work schedules and benefits.
The board also had the option of extending the contacts and just changing parts of it later.
It was a contentious meeting from the beginning.  The meeting was so packed that an overflow crowd of teachers filled the courtyard.  They chanted and held signs and could often be heard inside the meeting.
Immediately after the vote, Meladie Munch of the Jefferson Federation of Teachers addressed the crowd, asking them to stay after the meeting to make a show to the school board members as they left.
"A lot of them have been hurt on a number of levels.  I mean, keep in mind, some of them are here and they've had their schools closed.  Some of them lost their principals and now they've lost their contracts, so if you've been through any of those things it's been extremely difficult.  I'm just disappointed that I wasn't able to do something more," says Munch.
The teachers claim the school system is in chaos after budget cuts, layoffs and the consolidation and closing of some schools.
The teachers call what happened just another bad decision by the board.
Munch says she can only move forward, and she hopes the negotiation process is fair.