Lee Zurik Investigation: AG took campaign contributions from 'Dirty Deeds' heirs
Updated: Sep. 20, 2012 at 10:15 PM CDT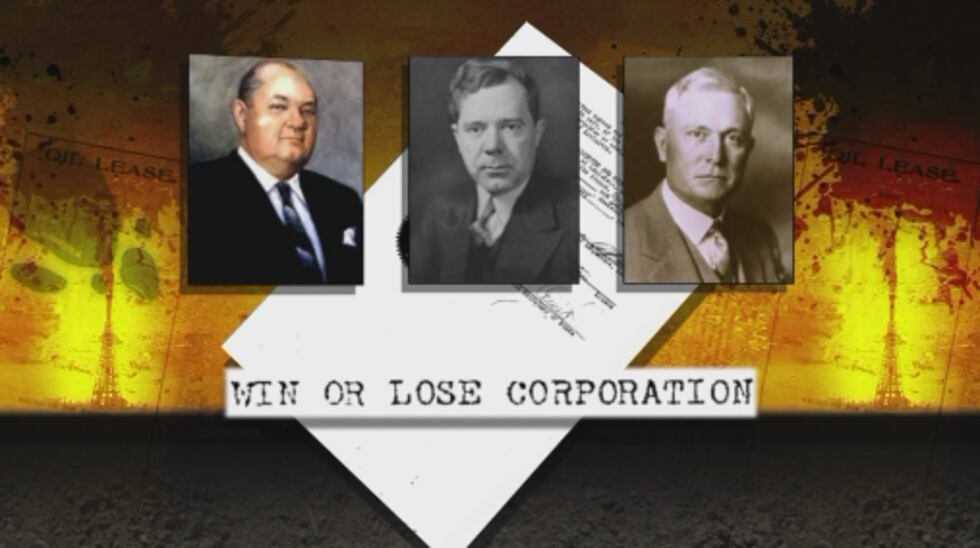 Louisiana's attorney general should report back to the State Mineral Board in January about whether the state has a way to cancel leases with heirs to three former governors, including Huey Long.
We detailed the "Dirty Deeds" in a series of stories in May.  It prompted the State Mineral Board to ask the AG to see if the state has a way out of those lucrative leases, with no end date, that have paid the heirs more than $1 billion in today's money.
"You become a cynic," says independent researcher Norman Billiot.  "You go, why bother?"
Billiot and co-researcher Keith Cressionnie turned a bit cynical one morning this summer.
"We were scheduled to walk out my back door, read to go.  It's a 2:30 meeting in Baton Rouge," recalls Cressionnie.
They were scheduled to meet with Attorney General Buddy Caldwell.  But right before they left for Baton Rouge, they got a phone call -- the meeting was cancelled, without rescheduling.
Cressionnie and Billiot have spent 30 years studying the dirty deeds we laid out in a series of stories, where three former governors -- Huey Long, James Noe and O.K. Allen -- awarded state leases, then those leases were steered back to a company they formed, the Win or Lose Corporation.  Essentially the governors profited from the oil leases they awarded, and the rights have been passed on from generation to generation earning descendants hundreds of millions of dollars.
"I really don't think they believed that what they got was eventually what it turned out to be, which was a windfall beyond all windfalls," says Billiot.
At that meeting in Baton Rouge, Cressionnie and Billiot were supposed to be joined by a local attorney, Mike Stag, a partner in an environmental law firm with expertise in mineral royalties.  Stag tells us he "reached out to the attorney general to discuss if his firm could provide assistance concerning whether the royalties were improperly obtained... and if so... I [he] wanted to take on the suit for the state."
Again, that meeting hasn't been rescheduled, but the Mineral Board says two or three inhouse attorneys for the AG are handling the investigation.  A local law school may be helping out, too.
"It's been six months since I first found out about it," says Mineral Board member Tom Arnold, "I still hear people asking questions about it every day.  There's not somewhere I walk, people don't say, 'What's going on with the dirty deeds?"
Arnold says the attorney general should issue a report to the Mineral Board by its January meeting.
"If there is any wrongdoing, we will take care of it," insists Arnold.
But we have some questions about the AG's office.
Ryan Siedeman works for the attorney general, but is assigned to the Mineral Board.  Four years ago, Cressionnie met with Siedeman and showed him the dirty deeds, but Cressionnie says Siedeman wasn't interested in investigating.
"How can Win or Lose and the Long people and the heirs keep getting all this money?" Cressionnie recalls saying in his conversation with Siedeman.  He asked him, "Why can't the state do anything about?  Is it that political?  He said, 'Yeah,' and it was case closed."
Siedeman has been reporting to the Mineral Board on the AG's progress on the investigation.  While he's investigating whether these heirs should still be receiving money, AG Buddy Caldwell has received money from some of those same people.
For example, one of the royalty holders, Jack Lawton, gave Caldwell $5,000 in 2011.  Another royalty holder, the widow of the late Senator Russell Long, has also contributed to Caldwell.
"We don't go after rich, wealthy people who make campaign contributions in Louisiana," says government watchdog C.B. Forgotston.  "The public was ripped off for hundreds of millions of dollars, you showed that without any question."
Forgotston doesn't expect the attorney general to give the Mineral Board much.
"If they bother to come up with a report at all, it'll be a whitewash… meaning that they'll say, 'Well, we couldn't find any evidence that we could bring to court, that could claim any money for the state.'  Well that's a judgment call.  That's why you go to court."
But Mineral Board member Tom Arnold says he expects the AG to be fair.
"It's always politics in Louisiana," Arnold says.  "But like I said before, they've always been true and straight with us."
Cressionnie may have turned cynical after that canceled meeting, but he remains on the case.  He's focusing on the importance of the AG's investigation and the possibility of canceling the leases.  That could bring a cash-strapped state $30 million every year.
"I just want the Louisiana citizens to listen – hey, we got a shot at this," says Cressionnie.  "Stop these people's royalties, get your voice heard, and try to get this out to Mr. Jindal and Mr. Caldwell to do the right thing."
We sent the AG's office an email about this story, and have yet to get a response.