Family says Chauvin woman got flesh-eating bacteria by handling live crabs
Published: Aug. 28, 2013 at 2:39 AM CDT
|
Updated: Aug. 28, 2013 at 3:34 PM CDT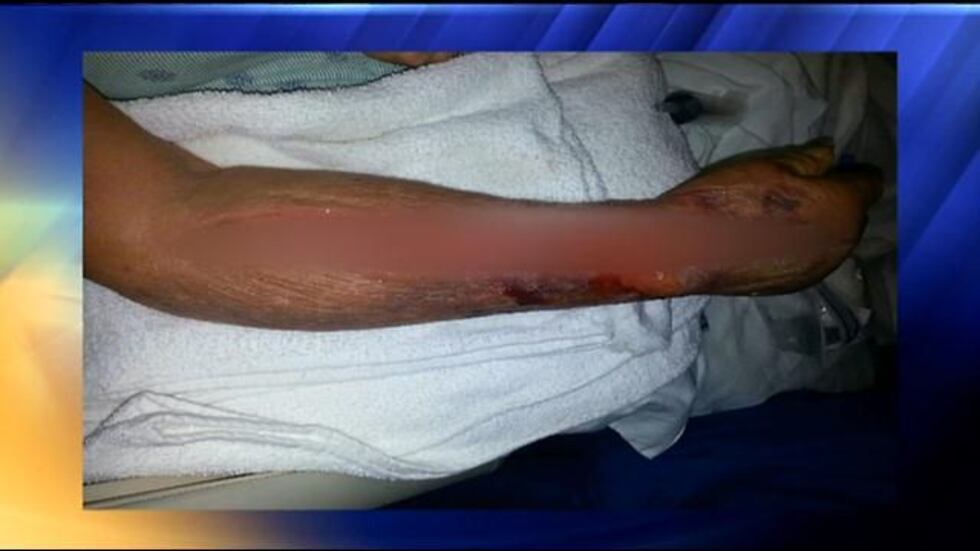 Tuesday was Lois Domangue's 11th day in the hospital after becoming infected with a flesh-eating bacteria, according to family members.
They said it all started when the 70-year-old Chauvin resident was cooking dinner one night.
"She was preparing some crab to make a crab stew for her and dad, and they were live crabs. One of them clawed her and made a little hole in her finger," said Eileen Jackson, Lois's daughter. "She cooked her stew. They ate it and then went to bed. Around 11, she woke up with pain in her wrist."
Within hours, Domangue's arm swelled enormously. "It had just taken over her whole arm. It was blisters and red. It was horrible," Jackson said.
Doctors determined she was infected with Vibrio vulnificus - a flesh-eating bacteria that can attack people through the consumption of raw shellfish or by entering open wounds.
It's known to thrive in warm, salty or brackish water -- like Lake Boudreaux in Terrebonne Parish, the source of Domangue's live crabs.
"Unfortunately, this is one of the fastest moving infectious diseases I know of and it can cause just a terrible cellulitis, sepsis and death if it's not treated immediately," said Brobson Lutz, M.D., spokesman for the Orleans Parish Medical Society. "The risk factors for this are any kind of liver disease, any kind of immune deficiency, if people are on steroids that can certainly be a risk factor."
In early July, state health officials issued a warning about the flesh-eating bacteria in Gulf Coast waters, after four cases turned up in Louisiana. One 83-year-old man died after becoming infected.
Family members said Domangue had recently been on a steroid medication, something they believe may have been a factor.
However, learning the infection came through handling live seafood was shocking for loved ones.
"This is more or less a warning to let the communities around the southern states know that this stuff is real and it don't play," said Darrell Domangue, Lois's son and also a fisherman.
"Be careful when handling seafood. We're not trying to hurt anybody. Seafood is our life. We live and breathe seafood, you know," Jackson said. "We just want to make you aware, be careful, because it's a killer."
Jackson said her mother has had multiple surgeries and has no timetable for being released, as she continues battling complications from the infection.