Jesuit duo transitioning from state championship to basketball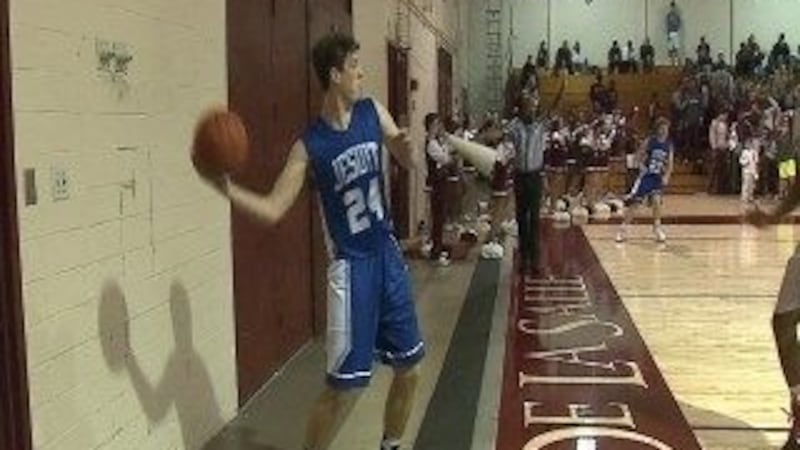 Published: Jan. 12, 2015 at 8:39 PM CST
|
Updated: Jan. 13, 2015 at 12:03 AM CST
Less than a month ago, Trey LaForge helped lead Jesuit to their first state football title in 54 years thanks to his perfect touch on passes.
In January, he's still throwing a great deep ball, just on the basketball court now. LaForge along with tight end Foster Moreau took a two day break after their Superdome victory, then joined the Jays on the hardwood. The transition can be tough between the sports, but they've handled it near flawlessly, according to coach Chris Jennings "Pleasantly surprised how well they came in. Prepared mentally to play basketball with everything that has been going on. It's been a whirlwind for them. They've really put forth their best effort as best they could to accomplish what we're trying to accomplish in basketball. It's really been very impressive."
LaForge's go-to-guy on the gridiron in 2014 was Moreau, in 2015 nothing has changed, that's due to their relationship formed since the eighth grade, Moreau says "Well it really forms a different kind of team chemistry that you really can't get on the court. From being friends in the classroom to being outside of school, just hanging with each other on the weekend. It forms a bond where you know how he wants to receive a basketball, or ball is going to come off the rim.
Moreau is verbally committed to play football this fall at LSU, but LaForge is on the fence if it's football or basketball in college "I haven't come to a decision yet, but I would like to play either one of them in college. It's certainly a dream of mine, we'll just see how basketball season goes, and decide after that."
Jennings may be biased but he thinks hoops is LaForge's specialty "We argue about this, I just think he's a very good basketball player. He has natural skills in basketball, and I don't know if he has them in football. I'm not a football coach, I just go to the games. I just know he's a very talented basketball player. He has basketball skills, that are unique to the game of basketball. So I would think as he gets older he'll be a better basketball player."