A Louisiana Marine found his dog, and recovered a piece of himself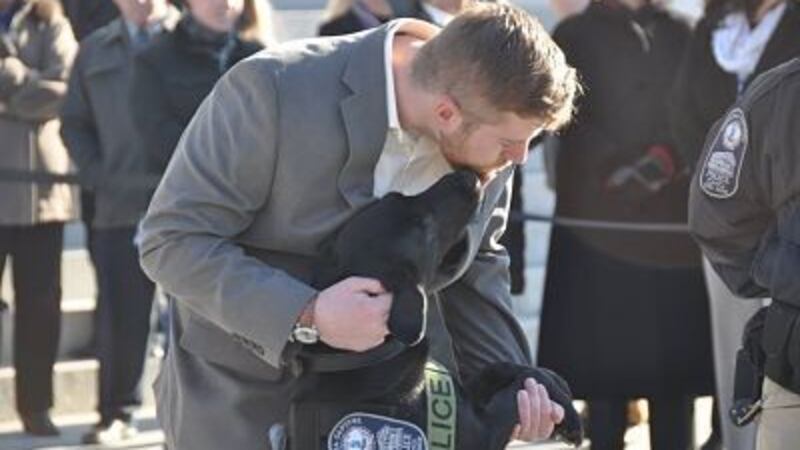 Updated: Mar. 11, 2015 at 9:49 PM CDT
ST. FRANCISVILLE, LA (WVUE) - A dog is considered man's best friend. But for a St. Francisville Marine that's an understatement. The story of his incredible bond with his dog might melt your heart. It took love, war, and determination for them to find each other again.
That's the reason Jared Heine plays catch with his black Lab like he's making up for lost time.
"I want to run again with him. I want to train him. I want to have fun," he said
Jared and Spikes story began years ago, as the two prepared to join the War on Terror in one of the world's most volatile areas. Jared says they got to Afghanistan in the beginning of 2011. He trained the dog all of 2010 in different bases.
Cpl. Jared Heine is a Marine with the Echo Battery based out of Hawaii. The Louisiana native served as the Bomb Dog Handler with the artillery unit. He and spike were always together.
"He was probably one of the most motivated dogs out there," Jared said
By the time they arrived in Afghanistan Spike was more than Jared's eyes and ears. the Labrador was his heart. Spike for find explosives everywhere.
"Spike lays down next to me that's his signal that there's a bomb there."
He says if he had gone to war with any other dog he doesn't think he would have made it.
On on august 26, 2012 Jared and Spike wrapped up their daily patrols in Afghanistan. and were crossing an irrigation ditch.
"I get across to the other side and one of my buddies come across and asked me to grab something," Jared said.
That's when his friend stepped on a I-E-D and lost both his legs. Jared was knocked out and suffered severe head injuries. When he woke up Spike was gone.
Jared cried, even though he says it's something Marines don't normally do. What he didn't know is his loyal dog had gone for help.
"He ended up running two miles back where they dropped us off in the Humvee. He thought I was dead,"
Jared and Spike were reunited briefly but their longtime partnership was over.
"I was not allowed to patrol anymore. It was heartbreaking you're with him every single day and then you don't see him at all," he said.
Jared earned a Purple Heart for his service. But without Spike his heart was broken. His mother says the pain was obvious when he returned home.
"He landed and I was asking questions about his injury. All he was worried about is pulling paperwork out to get Spike back," Mary Heine said.
Jared said he was told he was going to be able to adopt the dog.
"You're first in line, you were his first handler you got this," was the message he said he got. But about a year later he was told Spike was transferred to another agency. They told Jared they couldn't disclose where the dog was.
Mary Heine began her own secret mission to find her son's dog.
"I started in January pressing hard. I thought it was going to take a while. Once it hit Facebook it took off," she said.
Military working dogs put out an inquiry on Facebook and Mary Heine quickly saw a picture of Spike with his new handler.
Laura Holmes is the first K-9 officer with Virginia's Capitol Police. In a matter of days Mary and Jared headed to Virginia for a visit with Spike,
"I was coming up the steps of the capitol and to to the very top and I see Spike. My heart dropped," He said.
Jared and Spike's love for each other showed. Officer Laura Holmes had a feeling she was about to lose her working dog. She knew Spike needed to be with Jared.
"I had already bonded with him through all the training let alone all the horrible situations we had happen in Afghanistan. The bond of being best friends to the bond of going to hell and back honestly you can't break that kind of bond," he said.
The police agency in Virginia agreed to let Spike go.
His last day was March 5th, and he retired from the Virginia force. He came home to Louisiana with Jared.
"I feel like a whole person again," Jared said.
No conflicts, no explosions, just unconditional love.
Copyright 2015 WVUE. All rights reserved.