Flash flood warning issued for southeast of Louisiana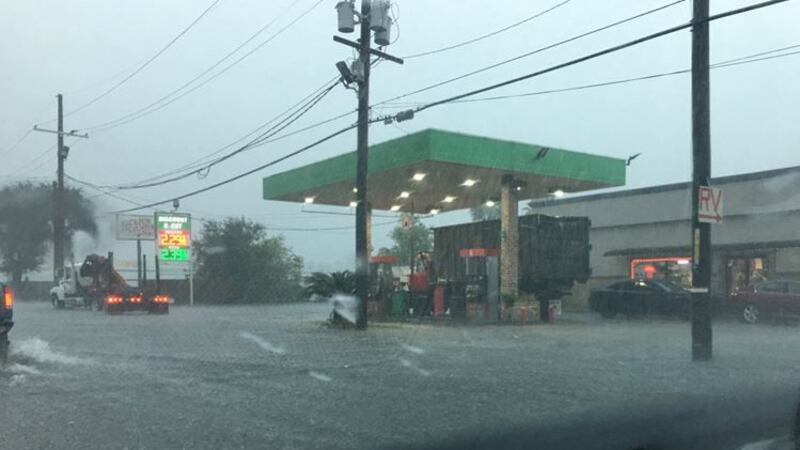 Updated: Oct. 2, 2017 at 12:42 PM CDT
(WVUE) - The National Weather Service has issued a flash flood warning effective until 3:15 p.m. for several parishes in southeast Louisiana.
The warning is issued for northwestern St. Bernard Parish, southwestern Orleans Parish, and north-central Jefferson Parish.
Just after noon, flash flooding was reported across the area. Up to three inches of rain has already fallen.
Some locations that will experience flooding include New Orleans, Metairie, Chalmette, East New Orleans, Timberlane, Harvey, Marrero, Belle Chasse, Jefferson, Gretna, Westwego, Violet, Terrytown, Meraux, Arabi, Bridge City, Poydras, and Lakefront Airport.
Flooded streets in Jefferson Parish include:
Cleary Avenue at Mouton Street and at Third Street in Metairie is not passable.

400 block of Rosa Avenue in Metairie is not passable

Grinell Drive/Grape Lane/Goucher Street in Terrytown has substantial amounts of water

Oaklawn Drive and I-10 under the overpass is almost impassable

4600 block of Woodland Street not draining water starting to get into vehicles

Woodland Street and Mouton Street not passable

Richland Avenue and Mouton Street is not passable
Flooded streets in Orleans Parish include:
5000 SAINT FERDINAND DR

DESIRE ST / N CLAIBORNE AVE

ETON ST / ABBEY DR

3900 N CLAIBORNE AVE

ELYSIAN FIELDS AVE (5K01) / N MIRO ST

1900 HOLIDAY DR

212 NORLAND AVE

3400 GARDEN OAKS DR

LOUISA ST / OLD GENTILLY RD

ELYSIAN FIELDS AVE (3Q04) / GENTILLY BLVD

WAKEFIELD PL / PARIS AVE

6400 GENERAL MEYER AVE

HOLIDAY DR (4D01) / MACARTHUR BLVD

3600 HOLIDAY DR

SAINT BERNARD AVE / CATON ST

LOUISA ST / OLD GENTILLY RD

STEPHEN GIRARD AVE / LOUISA DR

5400 LAKESHORE DR

DESIRE PKWY / CHEF MENTEUR HWY

4900 CHEF MENTEUR HWY

PARIS AVE / GENTILLY BLVD

2000 GENTILLY BLVD

100 S SOLOMON ST
Copyright 2017 WVUE. All rights reserved.