FBI takes lead in probe of LA woman who went missing on Carnival Triumph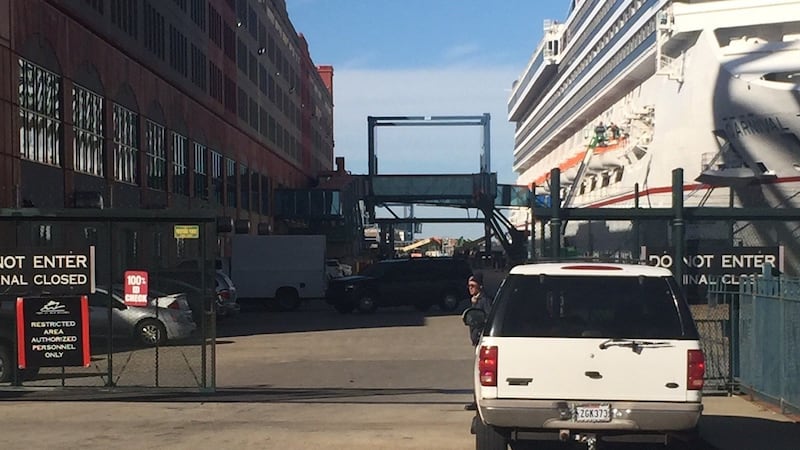 Updated: Jan. 25, 2018 at 5:22 PM CST
NEW ORLEANS, LA (WVUE) - The FBI says it's now working with Carnival cruise lines to figure out what happened after a Lafayette woman fell overboard while out at sea.
The Carnival Triumph docked Thursday at the Julia St. wharf.
A  Lafayette family is in shock and a lot of Carnival customers are confused as officials try and determine how a 44-year-old wife and mother somehow went overboard Sunday night as that ship, the Carnival Triumph, sailed toward Mexico.
Juwana Brooks was on a trip of a lifetime when she disappeared Sunday night.
"We went to a comedy show, and when we came out they made the announcement that someone went overboard and they started their search and rescue protocol," said passenger Monica Milazzo.
Somehow, somewhere in the Gulf of Mexico, off the Mexican coast, Brooks went missing.
"Everyone was on the promenade deck and we heard a call, 'man overboard,'" said passenger Baron Daigrepont.
"They put out beacons and they did their search-and-rescue techniques," said Milazzo.
Passengers departing in New Orleans said there was a lot of confusion.
"It was distressing. We didn't know if we were on a boat with a murderer,"said Daigrepont.
"We freaked out,. We didn't know where everybody was. We couldn't find my mom," said passenger Mark Davis.
In Lafayette, Brooks' mother struggles to find out whatever she can.
"We've been in touch with the embassy. We haven't heard anything yet, but they are still looking for her," said Marilyn Winfrey.
The FBI said upon the ship's arrival,  it was working with Carnival in investigating the incident, under the Crimes on the High Seas Act.
"I did hear she may have  jumped, but no way," said Winfrey.
The FBI won't confirm passenger accounts that anyone is being questioned, or in custody.
"You hear all kinds of stories, but on board it was hush, hush," said Milazzo.
The Mexican Navy continues to search for Juwana Brooks  as her mother tries to make sense of it all.
"I hope they find something, I want to put her to rest," said Winfrey.
Passengers say the boat remained in the search area for several hours before moving on.
They said the incident caused them to lose their  port call in Progresso, but they spent extra time, in Cozumel.
Copyright 2018 WVUE. All rights reserved.