A rash of robberies reported between early Sunday, Monday morning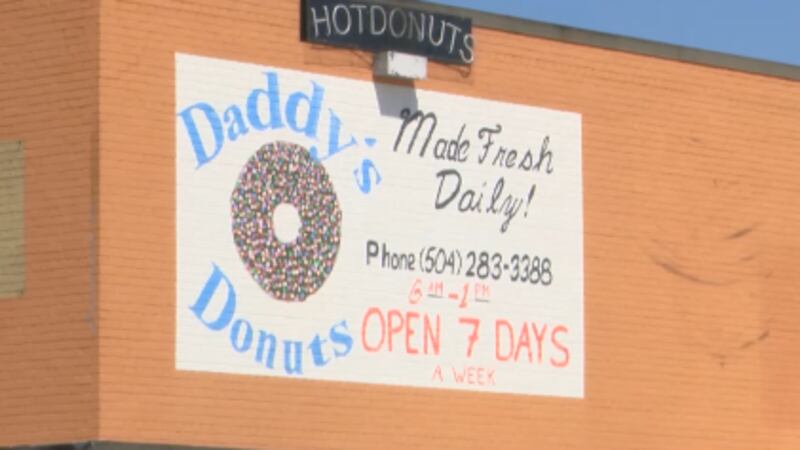 Updated: Apr. 23, 2018 at 8:27 PM CDT
NEW ORLEANS, LA (WVUE) - Surveillance video shows a brazen robbery inside Daddy's Donuts in the 2000 block of Caton Street. Police are investigating a spate of armed robberies between Sunday morning and the wee hours of Monday.
The video captured a man brandishing a gun walking into the shop with customers inside. Police said he ordered a worker to get cash from the register.
In all, NOPD responded to seven armed robberies between 7:25 a.m. Sunday and early Monday.
"You just got to hope that opportunities will present themselves for people to not have to commit crimes," said resident Cyrus Cooper.
Shortly after midnight in the 700 block of France Street, police said a man with a semi-automatic rifle asked two men, "where's the money?" One of the victims showed the gunman that they did not have any money, but gave him an iPhone. The robber then fled.
"It's shocking. We have almost no crime. If there is any crime, it's always petty crime - bikes thefts, or something like that. That's even rare, so an armed robbery or a mugging in our area just does not happen," said Dr. Richard "Dusty" Allen.
Allen, a veterinarian, said he moved to the Bywater neighborhood right after Hurricane Katrina. He said learning of the incident makes him want to alter some of his habits.
"We might be more careful when we walk at night," he said.
Cooper does not condone crime for any reason, but said he knows of desperation on the streets.
"It's harder and harder to get a job every day, so you know, people are having to turn to earn a living and stuff. Crime is never the right way to do it, but I understand the desperation in a lot of people's lives," Cooper said.
An NOPD spokesman said the Seventh District armed robberies are not related to each other, nor are they believed to be related to the cases in the First, Third and Fifth districts.
Detectives continue to investigate.
Copyright 2018 WVUE. All rights reserved.