Bills aimed at improving student safety headed to LA Senate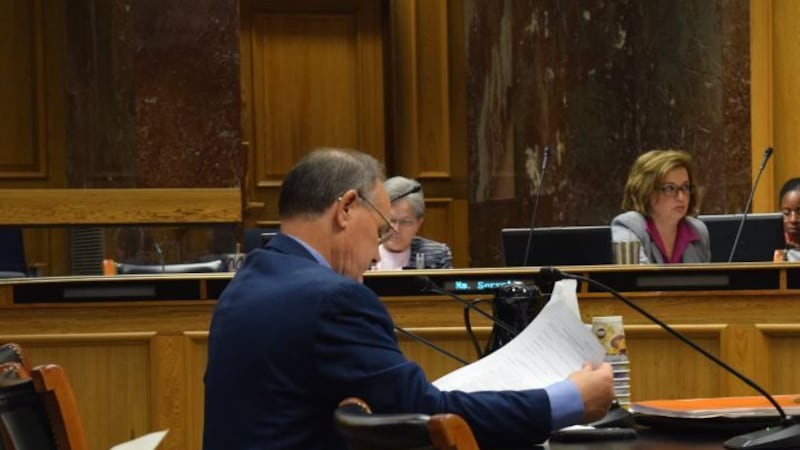 Updated: May. 10, 2018 at 8:14 PM CDT
By Kaylee Poche
and Joby Richard
LSU Manship School News Service
BATON ROUGE— Several bills aimed at increasing student safety passed the Senate Education Committee Thursday and now head to the full Senate.
One would require any K-12 student who makes threats against a classmate to undergo mental health evaluation before returning to school. Another would prevent public or charter schools from hiring anyone convicted of a felony. One more would require anti-hazing discussions at college orientation and require suspensions or expulsions for hazing violations.
A bill by Rep. Tony Bacala, R-Prairieville, would require individuals who threaten violence at elementary and secondary schools to complete a mental health evaluation before returning to campus. Bacala said he authored the bill in response to the school shooting in Parkland, Florida, in February. He said the current threat identification system is reactive rather than proactive.
"Unfortunately, we live in a world where violence in schools all too often is deadly," Bacala said.
Bacala's bill, called the School Terrorism Prevention Act, requires school employees of kindergarten through 12th-grade schools to report any threats on school property to the administration.
Committee members expressed concern that some students frequently say things they do not mean. For example, a student may make a violent remark on the bus.
Bacala responded that the bill requires school districts to establish investigation procedures for administrators. Then, after an investigation, administrators would be required to report the threats deemed both credible and imminent to law enforcement.
If a threat was reported to law enforcement, a student would not be permitted to return to school before undergoing a mental health evaluation. If the person making the threat is not a student, then the person is not permitted within 500 feet of the campus without an evaluation.
While the other bills passed unanimously, the debate over a bill authored by Rep. Lance Harris, R-Alexandria, that would prevent public or charter schools from hiring anyone previously convicted of a felony, was contentious.
Scott Richard, the executive director of the Louisiana School Board Association, said he was not against the bill but was concerned that it would place a hefty fine on school districts that hired someone rather than penalizing the individual who failed to disclose their prior conviction.
Any school that hires someone convicted of a felony would face a financial penalty equal to a teacher's annual salary plus benefits.
Richard said he was not aware of any state in the nation that imposes a fine on a local school system in such instances.
Richard said that criminal background checks often take weeks or even months to complete, making it difficult to fill teaching positions quickly in urgent cases.
Sen. Beth Mizell, R-Franklington, responded passionately to Richard's remarks: "I'm almost speechless. The burden is on all of us to make sure we're not putting these bad actors back in the classroom."
"The time of the criminal background check is irrelevant," she added. "Shame on us if that's the excuse we're going to use to put children in jeopardy."
Gary Jones, a member of the Louisiana Board of Elementary and Secondary Education (BESE) and a former superintendent of Rapides Parish Schools, said it closed the loopholes that would have allowed those with felony convictions to teach at charter schools after being fired from public schools.
"This bill is not targeting charter schools or regular school boards, but it is targeting those individuals who have no business being in any classroom or in a position of leadership at a public or private school," Jones said.
Under the law, individuals convicted of felonies that do not involve violence against children could still go before BESE after a certain waiting period. BESE would then decide if they would be approved to teach in the school system.
The bill passed the full House unanimously in April. An amendment by Sen. Mizell on Thursday increased the waiting time from the final conviction to five years from three years.
Rep. Stephen Carter, R-Baton Rouge, introduced the bill that prohibits hazing at post-secondary institutions and requires education and training on hazing.
Rep. Carter's bill is the educational component of the Max Gruver Act, introduced by Rep. Nancy Landry, R-Lafayette. Landry's bill elevated criminal penalties for hazing to a felony and provide penalties of $1,000, imprisonment for up to six months, or both, to any individual participating in the hazing of another.
Landry's bill passed both the House and Senate and is now subject to the House adopting amendments made in the Senate.
Rep. Carter's bill requires colleges to at least suspend a student involved in hazing for the current semester. The bill also requires universities to provide information regarding the dangers of hazing at orientation and mandates that organizations engage in one hour of hazing prevention education annually.
Copyright 2018 WVUE. All rights reserved.