Louisiana Secretary of State issues absentee voting tutorial; Democrats allege voter suppression tactics in the state
Updated: Sep. 25, 2020 at 9:58 PM CDT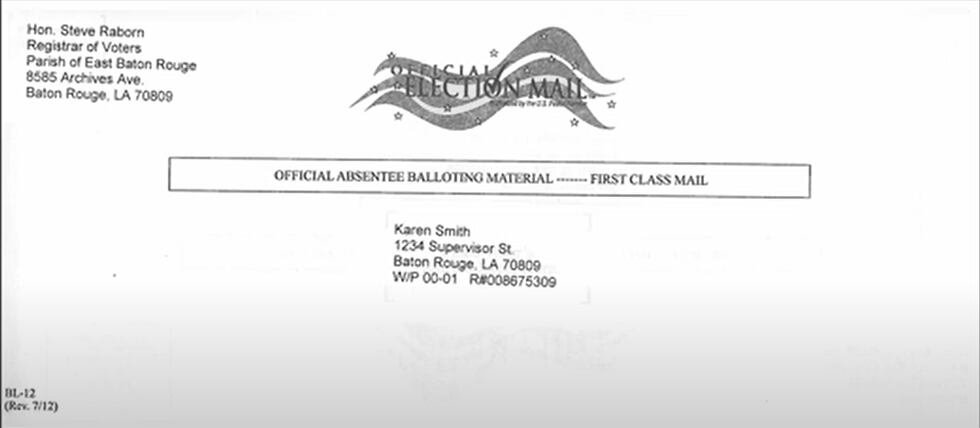 NEW ORLEANS, La. (WVUE) - As the presidential election nears the controversy over who will be able to vote and by which means in Louisiana is far from over. Friday the Louisiana Democratic Party slammed Republican Secretary of State Kyle Ardoin over alleged actions they say will suppress the vote.
For his part, Ardoin's office released a YouTube video that has step-by-step instructions on how to complete the absentee voting process in Louisiana.
"This is how your ballot will arrive. It will say official election mail at the top and will be from your parish registrar of voters," a female voice on the video says.
The video shows the number of envelopes voters who qualify for a mail-in ballot will receive and other information.
"In section two, you will need to sign your affidavit flap in the person of a witness. Anyone can serve as your witness," says the voice on the video.
Peter Robins-Brown is with the Power Coalition for Equity and Justice which is a plaintiff in a lawsuit that challenges Louisiana's limitations on absentee voting.
"I love to hear that they're doing that video, that they've done that video," said Robins-Brown. "I would just ask him to you know do everything in his power, in his office's power to speak to Louisiana's voters and make sure that they are aware and comfortable and confident about how to go about voting."
Watch the video: https://www.youtube.com/watch?v=JzD8oKQUHas&feature=youtu.be
The lawsuit resulted in a federal judge ruling that Louisiana must use emergency election rules that expanded the list of COVID-related reasons someone could use to request a ballot for the July and August elections for the upcoming November election.
Robins-Brown says they are pleased with the judge's ruling.
"Given the circumstances and the timing it was as good as we could hope for and I think it represents just a basic sort of electoral justice for the people of Louisiana."
Earlier this week, Ardoin apologized for maintenance work that shut down the state's voter registration website for a period of time on National Voter Registration Day.
And on the same day Ardoin's office released the video, the La. Democratic Party released the following statement:
"This is yet another failure from Secretary of State Kyle Ardoin. While Ardoin claims this was a mistake, it's part of a larger pattern of actions and efforts to suppress the vote. Time and again, he's failed to make voter participation accessible and even actively worked against it. In recent months, Ardoin fought against expanded vote-by-mail during a pandemic, excluded over 300,000 seniors from a letter sharing how to receive absentee ballots, and now blocked Louisianans from registering to vote on National Voter Registration Day. It's inexcusable and unacceptable.
"With just 40 days until Election Day, the Republican voter suppression machine is out in full force. During a global pandemic, Republican leaders have consistently fought to restrict access to the ballot box and silence voters. Louisianans deserve better.
"Democrats believe our democracy works better when more people participate, not fewer. We'll keep fighting to register more voters, expand access to vote-by-mail, and make sure every eligible Louisianan has their voice heard at the ballot box."
Dr. Robert Collins is a Dillard University political analyst who follows both national and local politics closely.
"The polling shows that of the people who are going to choose to vote absentee or vote by mail, we know that the vast majority of those will be Democrats and so the Democratic members of the legislature basically see this as a veiled attempt or perhaps not so veiled attempt to suppress the Democratic vote," said Collins.
Collins was asked if Ardoin's release of the how-to-video will win him any points.
"I watched the video, I don't think it really tells people anything more than they could find out just going online themselves, so I see him releasing the video as basically a public relations attempt to save face," said Collins.
Voting rights advocates say people who are allowed to vote by mail should act quickly.
"I guess there's always a concern that something could go wrong. That's one of the reasons that we're really, really urging folks to do it as soon as possible. If you want to vote by mail request it today," said Robins-Brown.
We requested a comment from Ardoin for this story but he did not respond.
Copyright 2020 WVUE. All rights reserved.
Click Here to report a typo.